UPDATE - 9/30@9:45AM: Here's a CNN article discussing the game and Rush's involvement (thanks chutch15).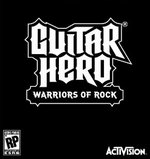 The 6th installment in the Guitar Hero video game series - Guitar Hero: Warriors of Rock - was released today. Rush's 2112 is one of the centerpieces of the game which includes a Quest Mode where heroes must play all 7 parts of the song. This portion of the game roughly follows the storyline of 2112 and is narrated by Geddy Lee and Alex Lifeson. From a July 20th Rolling Stone preview article:
It's official: Guitar Hero: Warriors of Rock has the most epically prog-rock finale of any music video game yet. Rush have teamed with Activision for the fall release, which features a story-based Quest Mode that includes with hero wannabes playing the entirety of "2112," a seven-part suite from the Canadian band's 1976 album of the same name. The story of the game's final segment roughly follows Rush's opus, and will be narrated by lead singer Geddy Lee and guitarist Alex Lifeson. "In our story, the caves of 2112 are where our hero finds the lost guitar," says Lee. "This rediscovery of music is much like the Guitar Hero warriors' journey to find the Demi-God of Rock's Legendary guitar, which has been trapped in a cavern."

Peart, Lee and Lifeson join Kiss' Gene Simmons as Guitar Hero: Warriors of Rock narrators. Simmons' contribution begins with an introduction asking players to "Come with me, and enter a world populated of Demi-Gods and Beasts. Transform from an everyday person and become the savior of rock & roll." ...

... The game retains the familiar Guitar Hero interface, with a few aesthetic changes - the imagery is filled with flames and molten lava, and the plastic guitars will come with detachable "axe wings" for gamers looking for a little more edge. The venues include Rush-inspired caves and a faithful rendering of the now-defunct CBGB. Additionally, Warriors of Rock will be the first in the Guitar Hero series to feature eight playable characters, each of whom will transform into rock warriors as players unlock subsequent challenges.

Despite added emphasis on storytelling and quest progression, however, the game remains focused on rock. "I think it's a great way to introduce people of all ages to music of various styles by all kinds of different bands," says Lifeson, "while providing a launching pad for kids who want to get into playing music."
There's also this accompanying video previewing the game that includes interview snippets with Alex and Geddy.
You can purchase your copy of the game at this link. Thanks to Power Windows for the heads up.