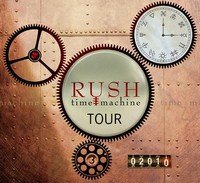 Rush made their way south this past week, bringing the Time Machine Tour to Bristow last Saturday, Tulsa on Tuesday and San Antonio last night. They'll complete their sweep of the Lone Star State this weekend playing shows in Houston and Dallas. Then it's across the Southeast for a few shows, ending up the US leg of the tour on Saturday, October 2nd in West Palm Beach, FL. That's assuming no hurricanes decide to ruin the party. Rush will then play 4 shows in South America in mid-October to cap off the tour. It's hard to believe the tour is almost over. From all reports so far, ticket sales have been very solid, especially taking into account the otherwise weak concert season. For some reason, Live Nation has not been releasing attendance figures for any Rush shows - at least not until this latest Billboard Boxscore report. Unfortunately they only had figures for one show; the Toronto show at the Air Canada Centre on July 17th. This show sold out all 12,191 of its seats and netted $1,258,740 CND. Hopefully figures for all the other shows will start to trickle in soon.
As I'd mentioned earlier this morning, today marks the 35th anniversary of the release of Rush's 3rd studio album, Caress of Steel. In celebration of the album's anniversary, for my next poll I'm asking everyone what their favorite song off the album is. Take the poll and let us know. In the last poll I asked everyone what album other than Moving Pictures they would like to see Rush play in its entirety. Although Permanent Waves gave it a good chase, the clear winner was Rush's epic 1978 masterpiece Hemispheres. You can check out the complete results at this link.


A couple of weeks ago VH1 Classic premiered the 2112/Moving Pictures Classic Albums special during their Rush Hashanah celebration. The special covered the making of these 2 classic rock albums and included commentary from all three members of Rush along with producer Terry Brown, Taylor Hawkins of The Foo Fighters, Rolling Stone journalist David Fricke and many others. The Classic Albums special will be released to DVD/Blu-ray this coming Tuesday, September 28th. The DVD version will have a running time of 112 minutes including 50 minutes of bonus footage not included in the VH1 Classic broadcast. You can pre-order your copy on both DVD and Blu-ray, along with a special DVD/Blu-ray combo package that also includes both the 2112 and Moving Pictures CDs (4 discs total).
The Canadian vampire horror/comedy flick Suck will also be getting released to DVD and Blu-ray in the US this coming Tuesday, September 28th. The film was released to theaters in Canada back in October of 2009 and had its US premier at the SXSW Film Festival in March in Austin, TX on Wednesday March 17th. Alex Lifeson makes an appearance in the movie as a border guard.
Sci-fi author Kevin J. Anderson is a huge Rush fan and has drawn inspiration from Rush for a number of his writings. His 1988 Rush-inspired novel Ressurection, Inc. even drew the attention of Neil Peart and the 2 have been friends ever since, even collaborating on the 1994 short story Drumbeats. Neil also wrote the introduction to Anderson's 2006 short story compilation Landscapes. The 2 friends met up when the band played at Red Rocks last month and Anderson recently blogged about the experience on his MySpace page in a post titled Rush and a Mountaintop.
Speaking of Neil Peart, if you've read any of his books you are probably aware of his fondness for The Macallan Scotch. The folks at TheMacallan.com are also aware of Neil's appreciation of their product and recently posted to their blog about it (thanks Cold Fire).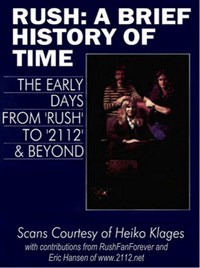 John at Cygnus-X1.net recently posted the sixth installment of his Rush: A Brief History of Time series where he compiles scans and transcriptions of old Rush articles. This latest batch contains about 50 articles and you can check it out at this link. He has also combined all the items from the 6 installments and presented them on one page here along with a chronological list here.
UK progressive rockers Porcupine Tree are set to play Radio City Music Hall in New York City tonight. In the run-up to the show frontman Steven Wilson conducted a couple of interviews where he heaps the praise on Rush. Here's what he had to say in an interview with Time Out New York (thanks GedHed):
... a band like Rush from the '70s is the great model, a band that have just toured and made consistently quality albums, never really had big hit singles, never been fashionable, never been on MTV, and yet are bigger than ever. So I think theyíre really the model for whatís going on right now. ...
And in this PopMatters interview (thanks Rob S) he had this to say:
... The best example I can give of that in terms of historical precedent is a band like Rush. Now here's a band that are possibly one of the biggest bands in the world and yet they were not discovered by the mainstream. They were discovered by the fan base and they were broken by the fan power. Consequently, I don't think they will ever be embraced fully by the mainstream. ...
He also discusses the Rush documentary Rush: Beyond the Lighted Stage:
... I think thatís an example of a documentary that got the balance absolutely right because we donít really find out anything about their personal lives. We donít meet their kids, we donít meet their wives, and apart from a very, very brief and tasteful mention of the tragedy that Neil [Peart] had with his wife and his kid [both died within a year of each other], itís all about the music. Itís all about the relationship between those three guys. I thought that was a documentary that didnít demystify them. I think we always knew they were nice guys. ...


Speaking of the Rush documentary, nearly 5 months after its premiere the film Rush: Beyond the Lighted Stage is still receiving accolades from critics and fans alike. While it's no particular wonder when Rush fans are quick to praise the film, it is both surprising and gratifying when non-fans do the same. This is demonstrated in a recent review of the movie from Canadian magazine Movie Entertainment which you can check out by clicking on the thumbnails. Thanks to louisg for the heads up and the scans.
All this past week VH1 Classic aired an updated version of thier 100 Greatest Music Artists of All Time special. As I'd mentioned last month, Rush came it at #75 on their list and were featured in the episode where they counted down numbers 80-61. The list was determined by polling well-known music artists and industry experts including Rush's Geddy Lee and Alex Lifeson. VH1 conducted the same poll back in 1998 as their first ever countdown special but at that time Rush did not make their list. You can see the entire list of all 100 artists in this press release.
A couple of weeks ago was the 9th anniversary of the 9/11 terrorist attacks. To mark the occasion Cleveland classic rock station WNCX posted a series of soundbites from famous musicians remarking on their memories of the tragic events of that day. One of these musicians was Geddy Lee and you can listen to his 9/11 memories at this link (thanks GeddyJr).
Steven H pointed me to this New York Times article feature on Silver and Ash, a new album from songwriter Clare Burson inspired by the artist's family history related to the Holocaust. The article discusses other songwriters who have tackled the subject of the Holocaust in their music, including Rush:
... In 1984, the rock band Rush ó whose lead singer, Geddy Lee, was the son of a survivors of Bergen Belsen and Dachau ó took electric guitars and synthesizer to the theme, with the song ďRed Sector AĒ: ďAre the liberators here? Do I hope or do I fear? For my father and my brother itís too late; but I must help my mother stand up straight.Ē ...
The Houston Chronicle recently ran an article profiling a diverse group of 4 Rush fans which you can check out at this link.





A couple of months back I'd mentioned that the July/August issue of The Believer contained a piece about Rush by Skylaire Alfvegren titled Grokking Rush. At that time a short excerpt from the article was made available at this link. The full version now available online at Alfvegren's website and you can also check it out by clicking on the thumbnails above.
In the latest installment of his music discovery podcast and blog Bands Like Rush, Ben Sommer talks to frontman Ben Spees of Portland progressive rock band The Mercury Tree. Ben is really excited about these guys and for good reason; their music contains jazz-inspired, complex rhythms and organic shifts in tempo that any Rush fan would likely enjoy. The podcast includes 2 full tracks from their latest EP Descent: Running the Gamut and Preconceived Notions. To find out more about the band check out their website at this link. You can listen to the podcast or read a transcription at this link.

Reader A-CELL-OF-AWARENESS shared something interesting that he saw at the Columbus show. He noticed that one of the camera operator's beltpacks had a sticker on it that said By Tour Inc (see photo). When he asked the operator about it, they weren't aware of any inside joke or meaning to it. If not, it's one very awesome coincidence! :)
Here's a video of Alex Lifeson's scenes from the movie Suck, where Alex plays a border guard (thanks RushFanForever. The movie gets released to DVD and Blu-ray in the US this coming Tuesday, September 28th.
That's it for this week. Have a great weekend!