UPDATE - 9/18@10:34AM: Here's a better quality video of Nelly Furtado's performance of Time Stand Still. This one is professionally shot and includes soundcheck and behind-the-scenes footage (thanks Sean).
----- snip -----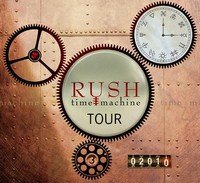 Rush came off of their 11-day break in the tour with another great performance at the TD Garden in Boston earlier this week, then played the Consol Energy Center in Pittsburgh last night - another show that had been rumored to get filmed but wasn't. It now seems unlikely that they'll be filming any shows at all in the US, although South America is still a possibility. Whether they film or not, there's always YouTube - which is awash with bootleg videos from iPhone-wielding Rush fans. Videos like this one (at about the 3:15 mark), this one and this one from the Boston show, which chronicle Alex Lifeson's major guitar malfunction toward the end of the night and his subsequent hilarious rant about having no guitars. The band has tonight off but will play Bristow tomorrow night. Then they turn south, journeying into the dark and forbidding lands of Texas (and Oklahoma) for a few shows next week. The Bristow show happens to fall on the 42nd anniversary of Rush's very first gig at the Coff-In in Toronto back on September 18th, 1968. After finishing off the US portion of the tour in a couple of weeks, the band heads even further south - all the way to the Southern Hemisphere to play 4 shows in South America. Tickets for the October 15th Buenos Aires show went on pre-sale earlier this week and can be purchased here. The venue has also been switched from the Desarrollo al Rio to the larger Club Geba - Sede Jorge Newbury stadium instead.
As he usually does after any extended tour break, earlier this week Neil Peart updated the News page on his website with some more stories from the road. He appropriately titled this latest entry Cruel Summer. In it Neil describes a series of unfortunate events that befell him and his crew on this last leg of the tour including Neil's riding partner Michael Mosbach getting food poisoning, their bus breaking down, a couple of flat tire incidents, a wind/rain/hail storm, and a computer breakdown - not to mention his inner ear issues. You can read the entire update on Neil's site at this link.
Neil also celebrated his 58th birthday on Sunday. Gibson.com commemorated the occasion with a feature article for their This Day in Music series titled Neil Peart's Journey to Rush (thanks RushFanForever) where they outline Neil's early career and describe how he came to be the 3rd member of Rush.
Part of that early history of Neil Peart and Rush involves a certain former DJ at WMMS in Cleveland, OH - the one and only Donna Halper, who played the primary role in discovering the band back in 1974. Donna remains friends with the band after all of these years and hooked up with them at the Boston show earlier this week as she describes in the comments on this post:
... I had a wonderful dinner with Pegi of Anthem and then the next night (she came in the day before) was the show. We went backstage for the Meet & Greet, and as expected, it was Alex and Geddy. Once the fans had left, we hugged, chatted briefly and marveled again at our 37 year friendship and how we have stood up for each other over the years-- like, I've defended them to the critics or told program directors to play their stuff, and they have never forgotten me and always are courteous to me whenever I wanna see a show or get backstage to spend time with them. As Alex and Geddy were leaving to get ready for the show, I said "Tell Neil I send my love," or something like that. They said they would, and I went off with Pegi to the suite where the press and other nice folks (Jillian [from RushCon] was there) were eating dinner. And suddenly, this big guy comes in and says "Are you Donna Halper?" I thought he had seen me in the documentary, because I am sometimes greeted by fans who saw me in Beyond the Lighted Stage." But no. He said, "Neil wants to see you." I said something like "He does?" I looked at Pegi and said "Did you put him up to seeing me?" She said "no way, nobody puts him up to anything." She was as surprised as I was. And so it was that I was ushered into a private room where Neil was. ...

... I saw drums. And then I saw Neil. He hugged me and seemed genuinely happy to see me. I am not, for obvious reasons (like his privacy) going to give you word for word what we talked about, but we discussed a wide range of things, from family (catching up on who has been doing what), to politics (the current political scene) to philosophy (how people who don't know him often misinterpret his views), to Shakespeare. He recalled the time in Cleveland when he visited my apartment and I gave him a copy of my favorite Shakespearean play, "King Lear." I was very moved to find he still had it, and it still meant something to him. In fact, as he and I were saying goodbye, he remarked upon the lesson from King Lear-- that it's not enough to say you love someone; you have to show it. And then, it was time for him to go, and he said he needed to find an extra hat (yes he was wearing one when he saw me), and so we hugged and said goodbye.

I will never know why he decided he wanted to chat, but the five or so minutes we hung out, it was like being with an old friend you haven't seen in a while, and even though time has passed, the ties of friendship are still there. It was a wonderful and unexpected event, and it only enhanced being at the concert. ...
What a great story! Thanks so much to Donna for sharing it with us. Here's a fun little exercise: if you had a chance to hang out with Neil before a show and could ask him any question, what would you ask? Let us know in the comments.
The Rush documentary Rush: Beyond the Lighted Stage was released to DVD back in late June and we just learned late last week that it was already certified Double Platinum by the RIAA on September 1st. Whitney Matheson of USA Today's Pop Candy recently watched the film and loved it, dubbing it the Best Movie I Saw in her latest The Week in Pop column (thanks Bret):
This may sound surprising, but it was a documentary called Rush: Beyond the Lighted Stage. I've never been a huge Rush fan, but I'm becoming one after seeing this doc. It follows the band from its formation (as teenagers!) to the present, and I'm convinced these guys have to be some of the kindest musicians on the planet. Trent Reznor, Billy Corgan, Jack Black and Gene Simmons are just a few of the folks interviewed. I was captivated throughout, no lie. (It's out on DVD.)
And the guys from Porcupine Tree love the movie too, as demonstrated by this recent Tweet from the band's official Twitter feed (thanks Tomcat84):
The only DVD that all the members of Porcupine Tree can agree we want to watch on the tour bus? Rush "Beyond the Lighted Stage".
5:03 PM Sep 11th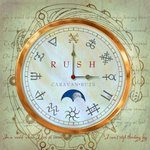 Back in July the Rush Backstage Club sold out all of its copies of the limited edition CD version of the Caravan/BU2B single and it wasn't clear at the time whether they'd again be offering the single for sale at any future date. So the good news is that they have decided to make more copies available, which you can purchase at this link (thanks Hank N). You can also still buy digital copies of both Caravan and BU2B at this link. Several copies of the original release of the CD (all of them maybe) have BU2B as track 1 despite Caravan being listed first on the sleeve. I'm curious as to whether this printing of the CD will have the correct track order or not. If anyone buys a copy, please let us know. The Caravan single is still getting decent airplay on rock radio stations several months after its release. It's still hovering around the top 10 on the Mediabase Rock Chart, currently holding at #10.
Last week I posted regarding Geddy Lee's supposed involvement with the new Heart album called Red Velvet Car which was produced and engineered by Ben Mink and David Leonard respectively, both of whom had the same credits on Geddy Lee's 2000 solo album My Favorite Headache. One of the tracks on the album is called Death Valley and the following appears in the credits: Geddy Lee - Whistle on 'Death Valley,' Mazel. This left us all wondering exactly what Geddy's contribution to the track consisted of, since no whistle could be heard anywhere in the song. Thanks to some very diligent research on the part of RushFanForever the mystery has now been solved. He emailed sound engineer David Leonard and received the following response:
I am not sure what "whistle" Geddy is credited for. I don't recall any whistle on "Death Valley", however there was a sample on "WTF" that I dubbed the steam whistle because that is what it sounded like to me. I will forward your email with this question to Ben. Thanks for your enthusiasm.
Mr. Leonard then emailed Ben Mink and relayed Ben's reply back to RushFanForever:
I just heard back from Mr. Mink. Kudos to you for picking up on an inside joke between Ben and Nancy Wilson. Ben says "Nancy (Wilson) heard some hi pitched thing in "Death Valley" and he (Ben) said "it's probably Geddy whistling". They gave Geddy credit. That's the story.
So there you have it. Geddy isn't actually on the track at all - it's just an inside joke. :)
Canadian pop singer Nelly Furtado debuted her rendition of Rush's Time Stand Still at the Ravinia Festival a couple of weeks ago. The song is featured in the Canadian film Score: A Hockey Musical where Furtado plays a crazed hockey fan. The movie premiered at the Toronto Film Festival last Thursday night and you can read a review at this link. You can check out a bootleg YouTube video of Furtado's performance of the song at this link. We first heard some rumblings regarding Furtado possibly recording the song back in late March in this Toronto Star article.
The Asbury Park Press published a short preview article for Rush's show at the PNC Bank Center a couple weeks ago which included some interview snippets from Alex Lifeson. The article is titled In No Rush to Slow Down and Alex comments on the longevity of Rush and what the future holds for the band. You can read it at this link.
It's the time of the year when the 35 or so members of the Rock and Roll Hall of Fame nominating committee meet to determine the list of nominees for induction to the Hall in 2011. Sometime in the next several weeks they'll then make an official announcement listing their 10 or so nominees. This group will then be put to a vote by a group of around 600 past inductees and other music business folk, and the final list of 5 or so inductees announced early next year. Rush has been eligible since 1999 but never has appeared on the list of nominees. Given Rush's surge in popularity over the past year, their chances for induction this go-around are probably the best they've ever been. Rush documentary filmmakers Scot McFadyen and Sam Dunn were interviewed by QTV earlier this summer and McFadyen made some very interesting comments about inside information he had regarding Rush's induction chances. Check out the video of the interview at about the 21:30 mark. McFadyen describes how at a screening of the film for a bunch of VH1 executives one of the executives happened to also be on the Rock and Roll Hall of Fame nominating committee (possibly Bill Flanagan?) and told Sam that Rush was going to be their personal pick next year. It's also encouraging to see longtime Rush advocate and senior editor at Rolling Stone David Fricke on the nominating committee. Geekdad Dave Banks recently wrote this great article at Wired.com addressing the looming nomination process and making the argument as to why Rush should be inducted.

Little Kids Rock is a nonprofit organization established in 2002 that provides free instruments and lessons to children in under-served public schools. For the past 2 years Neil Peart has contributed items to the organization's annual charity auction and will be doing so again this year. For all the details on the auction visit the Little Kids Rock website.
Back in July Rush released its first official iPhone application along with a really cool website showcasing the app. Yesterday Rush's official Facebook page announced that due to popular demand, the app is now also available for Android phones.
Actress Maggie Q was recently interviewed by USA Today regarding her new TV series Nikita and seems to be wearing a bootleg Grace Under Pressure t-shirt. You can watch the video interview at this link and judge for yourself - it's a little difficult to make out. Thanks to Ben W for the heads up.
70's progressive rock band Flash is rehearsing in hopes of returning to the concert circuit. Reader patti found a video of the band rehearsing on YouTube and a big Neil Peart poster can clearly be seen in the background.
My younger brother Matt located another obscure Rush reference at the Urban Dictionary. Under the definition for the Malachi Crunch they use the following sentence as an example: Jen gave John a Malachi Crunch after he passed out in his seat at the Rush concert.
Here's a bootleg YouTube video of Nelly Furtado's cover of Rush's Time Stand Still from the Ravinia Festival on Friday, September 3rd:
That's all for this week. Have a great weekend!