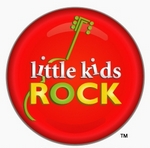 Little Kids Rock is a nonprofit organization established in 2002 that provides free instruments and lessons to children in under-served public schools. For the past 2 years Neil Peart has contributed items to the organization's annual charity auction and will be doing so again this year. From Ultimate-Guitar.com:
... On top of everything else they do, Little Kids Rock is about to host their second annual "Right To Rock" event which will take place in New York City at the B.B. King Blues Club and Grill. The benefit will take place on October 21st from 6:30 to 9:30 and will feature live music, awards, and the announced winners of a very special auction containing custom, one-of-a-kind guitars (along with other rock memorabilia) from some of the greatest players out there. ... Those interested in the aforementioned guitar auction can visit LittleKidsRock to check out and bid on some of the custom guitars made by heroes such as Slash, Joe Satriani, Gene Simmons, James Hetfield, Stephen Colbert, and many, many more. Each of the thirty artists involved in the auction have personally decorated a single Fender Stratocaster with their own design, making them rare, one-of-a-kind items. Other items like Neil Peart's cymbals and drumsticks signed by Ringo Starr will also be auctioned. ...
For all the details on the auction visit the Little Kids Rock website. Thanks to Power Windows for the heads up.