[Turns out guitarist Lifeson has a few goods licks on canvas]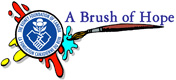 According to this article in today's Halifax Chronicle-Herald, Alex Lifeson will once again be participating in The Kidney Foundation of Canada's A Brush of Hope project. Alex has contributed paintings for the charity event the past 4 years running, and has promised to do so again this year. From the article:
... "Alex is definitely a highlight for us," says Fox. "We asked him if he would paint for us, and I think, to be honest, he was very pleasantly surprised with how well his first painting sold. It sold for $3,000, and that really got him excited, so he painted the next year and it sold for $5,700. He has been with us every step of the way." ...
For all the latest news on the event, check out their Facebook Group. Thanks to Power Windows for the heads up.