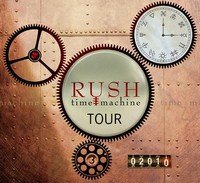 Rush hit the state fair circuit this past week playing shows at the Minnesota, Allentown and New York Fairs along with Sunday night's gig in Columbus. Despite the rumors, the Columbus show was obviously not filmed but the latest rumor is that the Pittsburgh show at the brand new Consol Energy Center will get this honor. Apparently one of the reasons behind not filming the Columbus show was Neil's recent ear issues and the fact that's he's been needing to wear headphones; they didn't want to film the show with Neil wearing the bulky headphones. After this evening's show at the PNC Bank Center in Holmdel, NJ they'll take another 11-day hiatus until cranking up the third and final US leg of the tour in Boston on September 14th. Hurricane Earl seems to have decided not to purchase a VIP ticket to the show tonight, so all should be well weather-wise except for a little wind/rain. Although the word is that Hurricane Lance will be making landfall in the first row - so watch out! Jared Max is the sports director at WCBS 880 in New York City and also a huge Rush fan. In honor of tonight's show he stuck a bunch of Rush references in today's sportscast. You can listen to it at this link or using the player below.
Earlier this week a new interview with Alex Lifeson was published at MusicRadar.com. The interview was conducted last week on Alex's 57th birthday just before the Minnesota State Fair show. The interview focuses on several of the same topics that Alex recently covered in his interview with Allentown's The Morning Call, such as the tour and the new album. He also discusses Rush's recent surge in popularity - especially with women, how the idea of playing Moving Pictures came about, and he expands a bit on their plans for recording the new album Clockwork Angels. You can read the entire interview at this link.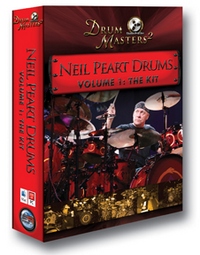 Last week Sonic Reality announced via a press release that their new Neil Peart series drum sample instrument library Neil Peart Drums Volume 1: The Kit is now shipping for the Infinite Player software powered by Kontakt. The version for FXPansion's BFD software was announced as shipping earlier last month. For information on purchasing the product visit esoundz.com or check out this list of Sonic Reality retailers. I'd first reported that Sonic Reality had completed a Neil Peart drum sampling session engineered by Nick Raskulinecz way back in April of 2008 but it's taken over 2 years to develop the end product. You can listen to 4 different demo samples at this link. There's also a behind-the-scenes video from the recording sessions for the sample library posted to Sonic Reality's YouTube channel. The video shows Nick Raskulinecz and the Sound Reality guys setting up the mics and then a couple of minutes of Neil pounding away on his kit.


Just like they did 2 years ago, VH1 Classic will be airing a special in celebration of the Jewish holiday Rosh Hashanah this coming Wednesday, September 8th called Rush Hashanah. Nothing but Rush programming will air for 24 hours straight starting with the Rush documentary Rush: Beyond the Lighted Stage at 7PM EST and the premiere of the 2112/Moving Pictures Classic Albums special immediately following at 9:30PM. You can check out the complete schedule at the VH1 Classic website.
Universal released yet another Rush compilation this past Tuesday as part of their new ICON series. The package includes 12 Rush songs from the period when the band was on the Mercury record label (through 1987), including some very interesting selections not included on past compilations such as The Twilight Zone and The Necromancer. You can see the complete tracklist and order Rush ICON at this link.
A couple of weeks ago we learned that VH1 will be airing an updated version of thier 100 Greatest Music Artists of All Time special over 4 nights starting with a 2-hour program this coming Monday, September 6th. The list was determined by polling well-known music artists and industry experts including Rush's Geddy Lee and Alex Lifeson. VH1 conducted the same poll back in 1998 as their first ever countdown special. At that time Rush did not make their list, but this time they come in at #75. You can read the official press release at this link.
The Canadian vampire horror/comedy flick Suck was released to theaters in Canada back in October of 2009 and had its US premier at the SXSW Film Festival in March in Austin, TX on Wednesday March 17th. Alex Lifeson makes an appearance in the movie as a border guard. You can get a glimpse of Alex in the film's trailer at this link (at about the 1:50 mark). We learned a few weeks ago that the movie will be released to DVD and Blu-ray in the US on September 28th and is already available for purchase in Canada. The film is getting a limited theatrical release sponsored by horror magazine Fangoria this weekend through D&E Entertainment - the same distributor that handled the Rush: Beyond the Lighted Stage theatrical release. All the details along with theaters/showtimes can be found at this link.
In an updates post from a couple of weeks ago and in subsequent posts, I'd mentioned that NASA was running a Space Rock contest where they were asking folks to vote for their favorite wakeup songs to be played on the upcoming STS-133 Space Shuttle mission. Two of the 40 songs up for voting will be chosen and one of the songs being considered is Rush's Countdown. Rush was doing very well in the voting until one Star Trek fan decided to hack the voting system and racked up 100,000+ votes for both the Star Trek Theme and Magic Carpet Ride (this song has Star Trek significance), effectively eliminating Rush from the top two. Several fans contacted NASA regarding the cheating and were told that they were working on a solution and that they are not taking the situation lightly. However, nothing has been done yet and Rush is still way behind in third place. I don't see the point of bothering with the poll until the cheating is addressed, but you can vote for Rush as often as you wish at this link.
While we wait for the cheating in the NASA poll to be handled, we can focus our attention on another poll where Rush needs some help from the fans. Several weeks ago I let you know that winemaker Wines That Rock are conducting a poll to determine the next classic album that will inspire the next Wine That Rocks. Rush's Moving Pictures is in the running and needs our help; they are currently in second place behind AC/DC's Back in Black. It also looks like you can vote multiple times so go vote for Rush!
Speaking of wine, internationally recognized wine expert Mark Oldman just released his new book Oldman's Brave New World of Wine and Alex Lifeson along with dozens of other celebrity wine lovers are profiled in the book. Alex discusses his favorite wines, wine-based experiences, and a few tricks he's picked up over the years. Here's an excerpt:
Bandmate Geddy Lee and I went to California's Turley Wine Cellars in late September of 1998 to spend a few days working the harvest. We pulled all of the leaves and spiders and all that stuff out of the bins, and so we were covered head-to-toe in grape juice. Later, Ged and I stopped at this restaurant for lunch. Our shirts and fingers were all purple-we were so proud! People were like, "Yeah, you guys are locals, aren't you? We'll get you some service right away, sir."
-Alex Lifeson
Geddy Lee was profiled in Oldman's 2004 book Oldman's Guide to Outsmarting Wine. You can purchase Oldman's Brave New World of Wine at this link.
Speaking of Alex and Geddy, the pair both recently celebrated their 57th birthday and the Classic Rock Revisited website asked them how they celebrate:
Geddy Lee: Well after I stop crying, I start drinking heavily.
Alex Lifeson: It's interesting for me this summer because I celebrated my 21st birthday about a week or ten days or so after we went on the road on our first tour in Minneapolis. And we'll be playing on my 57th birthday in Minneapolis.
Thanks to Scott_PA for the heads up.
This year's RushCon conventions in Toronto and Las Vegas were a huge success and the folks at RushCon have posted their 2010 convention wrap-up write-up which you can check out at this link. It's chock full of great photos and a rundown of all the events.

Speaking of Rush conventions, the 2010 East Coast Rush TabCon will take place the weekend of September 10-11 at Blackdog Recording Studios in Rochester, NY. This is the first time in 10 years that TabCon participants have performed and recorded live Rush songs in a full recording studio. The next TabCon after this one will be annual Mid-West TabCon at St. Francis High School in St. Francis, WI October 8-11. For more information be sure to visit the Rush TabCon website and to view videos of past performances, check out the Rush TabCon page on YouTube.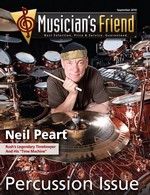 The September special Percussion Issue of the Musician's Friend catalog features Neil Peart on the cover as well as a foldout photo of Neil at his kit which you can check out at this link. Thanks to Power Windows for the heads up.
Reader rb2112 let me know about a recent Chicago Tribune article which asks the question of whether the band The Ides of March is the longest-running current band in history. The article includes a graphic that features Rush along with a few other long-running bands which you can check out here.
Eric at Power Windows came across this article titled Rush to your wallet which discusses the exorbitant price of concert tickets of late.





Reader random_sample dug up an old Musician magazine article from June of 1988 titled Neil Peart's Heady Metal: Rush's Rhythmatist Holds Forth where Neil Peart is interviewed. You can check out some scans of the article by clicking on the thumbnails.
Speaking of Mr. Peart, reader Mr. K let me know that Neil is featured in DRUM! Magazine's listing of the 50 Most Important Drummers of All Time.
Reader Dave W let me know that Rush's iPhone application gets a mention in this Guardian article on the surge in popularity of iPhone apps and how they are affecting iPod/iTunes sales. Rush's Time Machine Tour-themed iPhone application was released back in July.
Speaking of iTunes, the guys at iLounge.com recently posted yet another article strewn with screenshots of Rush songs and playlists at this link (thanks rosmakloma).
Rush's debut album is the subject of this recent Consequence of Sound article. The author considers this album in the context of wondering what Rush would have become had John Rutsey never left the band. You can check it out at this link. Thanks to Power Windows for the heads up.
Rush was discussed on this past Sunday's airing of syndicated radio talk show Loveline with Mike and Dr. Drew. At one point they took a call from someone in Canada and Mike went off for a minute or so raving about the Rush documentary and the two talked for a minute or two about the band.
Reader A-CELL-OF-AWARENESS located this bootleg video of Rush performing Red Barchetta at the Allentown Fair earlier this week. The video is notable because Alex maneuvers around in a way reminiscent of how he used to strut the stage back in the 80s. Lerxst must be feeling energized since his 57th birthday. You can check it out at around the 4-4:35 section in this video (obvious tour SPOILERS).
That's all for this week. Have a great holiday weekend!