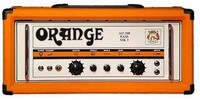 According to the Orange Amplifiers website, Geddy Lee now endorses Orange bass amplifiers and will be using them on the upcoming Time Machine Tour:
ORANGE are proud to announce that rock legend GEDDY LEE of RUSH is now using our ORANGE BASS AMPS. ...

...The band recently announced a forty date North America tour where they will be playing, for the first time ever, their classic album 'Moving Pictures' live in its entirety. Geddy will be using 2 x Orange AD200 bass heads together with 2 x OBC410 4x10"Bass Cabinets on the tour. ...
Thanks to Power Windows for the heads up.