UPDATE - 5/29@10:48AM: Someone uploaded this clip to YouTube (possible SPOILER alert) claiming it is a demo of Caravan which includes only the guitar part playing along to a drum loop. I can't verify whether this is genuine or not, but there you have it. Thanks to Joe W from CT for the heads up.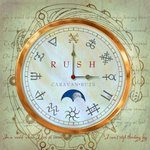 In less than 4 days we'll be treated to the first new Rush music in over 3 years! The Caravan single along with its B-side BU2B will be released digitally via iTunes, Amazon and other outlets this coming Tuesday, June 1st. We've known about this for a couple of weeks now due to Amazon's early listing of the single, but the release was officially announced earlier this week along with the title of Rush's next album, which will include these 2 tracks. Rush's 20th studio album will be called Clockwork Angels and get released sometime in the first half of 2011. As if this news wasn't enough, the latest edition of Classic Rock presents Prog magazine contains a short article on Rush which reports that Rush's back catalog will be the subject of a major reissues campaign in 2011. Rush's back catalog was last reissued back in 1997, when all of their albums through A Show of Hands were re-released as the Atlantic Rush Remasters series. You can check out some scans of the article in this post.


Last Friday Neil Peart posted a news update to his website at NeilPeart.net. In this latest news, weather and sports update, Neil takes us on a journey through time. He introduces a few old photos of himself and gives us some background on each one. He then goes on to describe rehearsing for the new tour and coming up with his new drum solo, recording the 2 new songs at Blackbird Studios in Nashville, and the construction of his new drum kit. You can read the entire news update at this link.
We learned Wednesday via Brave Words & Bloody Knuckles that Eagle Vision now has a planned release date of September 28th for their Classic Album DVD/Blu-ray covering Rush's 2112 and Moving Pictures albums.
Rush's Time Machine tour kicks off in less than 5 weeks and the band is busily rehearsing in Toronto as we speak. Inevitably there are a few rumored rehearsal setlists floating around the inter-tubes currently. While I can't confirm with 100% certainty that these setlists aren't genuine, that's exactly what my sources are telling me. If I do get my hands on a setlist that I can confirm as the real thing, then I'll be sure to post it along with appropriate spoiler warnings for those of you concerned about that kind of thing.
Speaking of the tour, I've been getting a lot of questions from readers regarding when they'll receive their tickets, their Rush VIP packages and/or their Music Today t-shirt and water bottle. Unfortunately I don't have any clear answers to those questions as I've been receiving a lot of conflicting information. Here's what Ticketmaster says regarding the VIP packages:
The ticket-portion the package must be picked up at will call on night of show only. Non-ticket elements will be shipped. Limited edition CD and Documentary DVD will be shipped upon release. VIP package details including shipping information will be emailed to customers shortly after purchase. You'll get an email within 14 - 21 business days with easy package redemption instructions.
This obviously isn't accurate since many folks first purchased tickets over a month ago and haven't received any information from Ticketmaster. From my own experience, the Music Today tickets should arrive at least 2 weeks prior to the show date, but I'm not quite clear on when the t-shirt/water bottle bundles will be sent out. Your best bet is to contact Ticketmaster and/or Music Today directly and ask them.
Speaking of Rush tickets, Max Mobley of Crawdaddy.com recently posted this article for which the title says it all: What the Hell Happened to Rush Ticket Prices?. From the article:
... I got to see my band for the price on the ticket and not the price of a three bedroom home in Stockton, California—which happens to be where I saw my very first Rush concert, thanks for asking. It was The Farewell to Kings tour. ... They played "Xanadu" and "Cygnus X-1" in their entirety. It cost $8.50. I'm not kidding. That is, of course, back when you could get arrested for breaking anti-trust laws, scalping laws, and probably a bunch of other laws I don't know about ... Live Nation and Ticketmaster are breaking anti-trust and scalping laws. Our government is apparently ok with it because Congressmen get in free anyway. As predicted by many people much smarter than I, the merger of the two companies, along with Ticketmaster's ability to sell tickets to itself and then resale them way above face value, has sent tickets prices right through the pleasure dome. ...
Amen brother!
Artisan News Service posted a news clip recently covering Rush's tour and spoke with Alex and Geddy about the challenge of playing Moving Pictures in its entirety. You can check out the clip at this link. Thanks to RushFanForever for the heads up.

Rush: Beyond the Lighted Stage will be released to theaters across North America and Europe the second week of June. The distributors continue to add cities/theaters due to high demand. A list of US cities/theaters can be seen here, a list of Canadian cities/theaters are at this location, and European release information can be found here. The documentary will be released on DVD/Blu-ray on June 29th in the US/Canada and July 5th in the UK. It will get its television premiere on VH1 and VH1 Classic on June 26th. You can check out all the coverage of the documentary's world premiere at the Tribeca Film Festival including photos, videos, reviews, interviews and news articles in this post; for Canadian premiere coverage at Hot Docs see this post. To listen to Geddy and Alex discuss the documentary on the radio interview circuit check out this post, and go here for their CNN interview. The official trailer for the film can be viewed at this link along with these 2 preview clips.
Speaking of the documentary, Power Windows wanted me to pass along the following information:
... Join Hard Rock Cafe Denver for an amazing night celebrating the music and history of RUSH! On June 9th, Hard Rock Cafe Denver will be hosting a RUSH movie party to benefit Safe House Denver. Enjoy a specialty menu for $21.12, enter to win amazing Rush prizes including the new documentary DVD Rush-Beyond the Lighted Stage (*to be awarded June 29th) and bid on limited edition, one of a kind pieces of actual Rush memorabilia donated from the band including:

A pair of drum sticks used by Neil Peart
A limited edition Rush lithograph signed by the band
Rush-Beyond the Lighted stage movie posters
And much, much more!

All proceeds from the silent auction will benefit Safe House Denver (http://www.safehouse-denver.org/). As an added bonus, we will be showing exclusive footage from the new film! Drum City Guitar Land and Colorado Music Buzz Magazine will be on hand with giveaways as well. Be here to celebrate Rush's legendary career and support Safe House Denver! For more information, visit the Hard Rock Denver website, or call 303-266-0856.


As I'd mentioned a couple of weeks ago, Neil Peart's original Slingerland drum kit (which he used from Fly By Night through 2112) will be making an appearance at RushCon in Toronto on July 17th. In addition to that appearance Chromey - as it is affectionately been dubbed - will be at the Rush documentary showing at the Marcus Addison Cinema in Addison, IL this coming June 10th and 12th.
A new Rush tribute album from Magna Carta Records titled New World Man: A Tribute to Rush was released last week. It includes tracks taken from 1996's Working Man and 2005's Subdivisions, the Alex Skolnick Trio's jazz interpretation of Tom Sawyer previously released on Last Day In Paradise, and 4 new tracks. 3 of the 4 new tracks - New World Man, Fly By Night and Force Ten - were recorded by members of Coheed And Cambria, The Dillinger Escape Plan (Chris Pennie), KORN (Shane Gibson) and The Mars Volta (Juan Alderete). The 4th new track is a cover of Tom Sawyer by I Omega. The album also features guitarist Dave Martone who talks about recording tracks for the album in this 2-part YouTube video (part 1, part 2). Thanks to RushFanForever for the video links.
Apparently Poison frontman and reality TV star Bret Michaels is a Rush fan. In this clip from MTV's new show When I Was 17 Michaels mentions Rush as one of the great rock-n-roll bands he listened to in high school. Thanks to Sean for the heads up.
Reader tonyp created this cool collage of Rush song titles which you can check out and download at this link.
Paste Magazine's List of the Day blog compiled a list of what they think are the 9 Greatest Rush Songs for this past Wednesday's post. You can check it out at this link. Thanks to RushFanForever for the heads up.
Rachel Maddow mentioned Rush on her MSNBC TV show this past Monday in reference to it being Geek Week on the show. From the transcript:
... It is in fact "Geek Week." Whether or not you identify as a geek, we here at THE RACHEL MADDOW SHOW believe there may be a geek inside you struggling to get out. The part of you that's more than you'd like to admit may be into fly fishing, into old cars, into cars that are really high off the ground or really low to the ground, into abstract expressionism, into music theory, into video games, into figuring out whether the lyrics to Rush songs are secretly libertarian. ...
Thanks to Jedi Sushi Chef for the heads up.
Reader barney_rebel pointed me to this National Post article discussing possible changes to Canada's copyright laws. The article focuses on Canadian Industry Minister Tony Clement and how he has broken current copyright law whilst building his own personal digital music collection over the past several years. They took a peak at his iPod and among the first 10 songs that appeared when they shuffled his playlist was Rush's Lakeside Park. Clement is a known Rush fan and back in March posted the following to his Twitter account in regards to Rush's continued exclusion from the Rock and Roll Hall of Fame:
I'm sick for one day and WT heck? ABBA in the R&R HofF?? And no Rush? This world is just so confusing...
Reader Nevetsrush2112 let me know that
Greg Gutfeld's new book The Bible of Unspeakable Truths makes mentions of Rush and Geddy Lee.
... Penn is lamenting political labels and says "So, I'll go with 'libertarian.' It means I can be pro-porn and anti-government health care. It means I don't have to drive a Prius, or listen to Rush (Limbaugh, I do listen to Geddy Lee). ...
Gutfeld is a huge Rush fan and often quotes Rush lyrics on his Fox News show Red Eye.
Yours truly was recently interviewed by Jaleh Donaldson for an associated content article on blogging. You can check it out at this link.
This past Monday Geddy Lee and Alex Lifeson were guests on the CBC's The Hour with George Stroumboulopoulos. You can watch the interview and check out some photos at The Hour's website, or watch it on YouTube in 2 parts (part 1, part 2):
That's it for this week. New Rush music on Tuesday! Have a great weekend everyone!