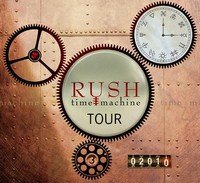 UPDATE - 5/4@11:48AM: Reader hermy managed to locate the link for the Tulsa Rush VIP pre-sale. It's hidden for some reason and not linked from anywhere obvious (there's a tiny link on the CITI pre-sale page that only shows up after you enter the CITI password). Anyways, go to this link for some great VIP tickets for Tulsa.
UPDATE - 5/4@11:13AM: As of right now, other than the Music Today pre-sale it looks like only the CITI pre-sale is available for the Tulsa show. It's not clear whether the Rush VIP pre-sale will be offered or not.
UPDATE - 5/4@10:58AM: Both shows are now listed at the Rush Music Today site.
According to the latest email from the Rush.com email list, the 4th and presumably final round of the Rush Time Machine Tour Music Today pre-sales begins tomorrow morning at 10AM for both the Sept. 21st Tulsa show and the Sept. 23rd San Antonio show, although at the time of this posting these dates are not yet listed at the Rush Music Today website. They should be there sometime tomorrow morning though - hopefully before the pre-sale actually begins. According to Live Nation both shows will also have Rush VIP and CITI pre-sales kicking off tomorrow along with the various Live Nation, venue and radio pre-sales beginning later in the week. Ticket sales for the San Antonio show will be handled by Ticketmaster while Tickets.com will distribute tickets for the Tulsa show. Information at both these sites for the respective dates seems to be incomplete at the present time but should be updated by tomorrow morning. For information on the different types of pre-sales see this Rush ticket sales and pre-sales guide that I put together. And for all the details regarding the times of the various pre-sales and any password information, stay tuned to the tour page. Remember - all times given are local to the respective venue. Use the comments to post your own experiences purchasing tickets and let us know how everything goes. I'll be posting updates to this post as I learn any new information.
Related Posts:
[Rush Time Machine Tour pre-sales round 3]
[Rush to play Ottawa Bluesfest on July 11th]
[Rush Time Machine Tour pre-sales round 2]
[Rush Time Machine Tour dates and ticket information]
[Rush Time Machine Tour pre-sales begin today]
[Rush Time Machine Tour Music Today pre-sale]
[Rush 2010 Time Machine Tour updates and pre-sale info]
[Official Rush 2010 Time Machine tour dates!]