[Rush Time Machine North American Tour 2010 Featuring for the First Time Ever Moving Pictures in its Entirety]
UPDATE - 4/8@12:14PM: The Summerfest date/venue that Rush.com had listed is incorrect. It should be July 3rd at the Marcus Amphitheater as originally expected. The Summerfest website will be making the official announcement later this afternoon. I'm gathering information on pre-sales as we speak and will be working on loading all the dates into the tour section over the next few days.
UPDATE - 4/8@8:02AM: Here's the official press release announcing the tour (thanks lilvictory).
... Announced today, The Time Machine Tour is an evening with Rush, where they will perform their classics, give a taste of the future – and for the first time ever – feature the Moving Pictures album live in its entirety.

The band is currently working on their 20th studio album with producer Nick Raskulinecz (co-producer from 2007's Snakes & Arrows) and in addition to their classics plan to showcase a few new tunes live this summer. ... This summer's Live Nation promoted tour will visit approximately 40 cities throughout North America beginning June 29th in Albuquerque, NM and finishing October 2nd in West Palm Beach, FL with stops along the way in Boston, Chicago, Denver, Dallas, Holmdel, Houston, Las Vegas, Los Angeles, Philadelphia, San Francisco, Toronto, Washington, and more ...
The release also includes the complete itinerary with a footnote saying Additional cities and dates to be announced. Itinerary subject to change. So we will likely see a few more dates announced before all is said and done.
----- snip -----
The Rush countdown clock has ticked down to zero and with it came the big tour announcement! It's called the Time Machine Tour and includes 33 US dates and 4 Canadian dates. Tickets begin going on sale April 17th. It will be another evening with Rush format and they'll be playing Moving Pictures in its entirety! I included the complete itinerary below.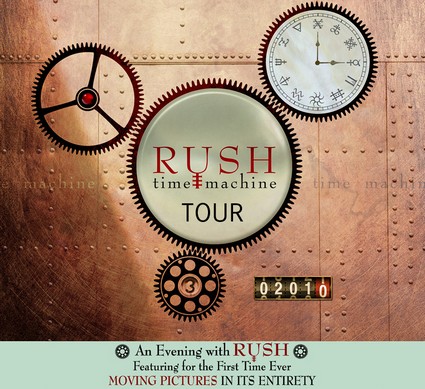 Jun 29
Jul 01
Jul 03
Jul 05
Jul 09
Jul 13
Jul 15
Jul 17
Jul 19
Jul 21
Jul 23
Jul 24
Aug 05
Aug 07
Aug 09
Aug 11
Aug 13
Aug 14
Aug 16
Aug 20
Aug 22
Aug 25
Aug 27
Aug 29
Aug 31
Sep 02
Sep 03
Sep 14
Sep 16
Sep 18
Sep 21
Sep 23
Sep 25
Sep 26
Sep 29
Oct 01
Oct 02
Albuquerque, NM
Kansas City, MO
Milwaukee, WI
Chicago, IL
Sarnia, ON
Toronto, ON
Quebec City, QC
Toronto, ON
Uncasville, CT
Philadelphia, PA
Saratoga Springs, NY
Wantagh, NY
Salt Lake City, UT
Seattle, WA
San Francisco, CA
Los Angeles, CA
Irvine, CA
Las Vegas, NV
Denver, CO
Wichita, KS
St. Louis, MO
Omaha, NE
St. Paul, MN
Columbus, OH
Allentown, PA
Syracuse, NY
Holmdel, NJ
Boston, MA
Pittsburgh, PA
Washington, DC
Tulsa, OK
San Antonio, TX
Houston, TX
Dallas, TX
Atlanta, GA
Tampa, FL
West Palm Beach, FL
Hard Rock Pavilion
Starlight Theatre
Summerfest
Charter One Pavilion
Rogers Sarnia Bayfest
Molson Canadian Amphitheatre
Festival d'iti de Quibec
Air Canada Centre
Mohegan Sun
Susquehanna Bank Center
SPAC
Nikon at Jones Beach
USANA Amphitheatre
White River Amphitheatre
Shoreline Amphitheatre
LA Forum
Verizon Wireless Amphitheater
MGM Grand Garden Arena
Red Rocks Amphitheatre
INTRUST Bank Arena
Verizon Wireless Amphitheater
Qwest Center
Minnesota State Fair
Nationwide Arena
Allentown Fair
New York State Fair
PNC Bank Arts Center
TD Garden
Consol Energy Center
Jiffy Lube Live Amphitheater
BOK Center
AT&T Center
Cynthia Woods Mitchell Pavilion
Superpages.com Center
Encore Park
Ford Amphitheatre
Cruzan Amphitheatre