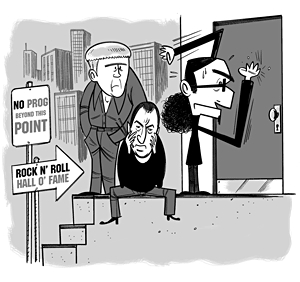 Rush was snubbed for the 11th year in a row by the Rock and Roll Hall of Fame earlier this week. The list of nominees for induction in 2010 was announced on Wednesday and once again Rush did not make the cut. This year's list includes first time nominees Kiss, Jimmy Cliff, Genesis, The Hollies, LL Cool J, Laura Nyro and the Red Hot Chili Peppers along with previous nominees ABBA, The Chantels, Darlene Love, The Stooges and Donna Summer.
The new Vertical Horizon album Burning The Days, which features Neil Peart on 3 songs, released earlier this week. Neil plays drums on the tracks Save Me From Myself, Even Now (which he also wrote the lyrics for) and Welcome to the Bottom. You can preview full versions of All Is Said And Done and Save Me From Myself along with extended samples (1 to 2 minutes long) of the other 10 songs at the Vertical Horizon website.
Alex Lifeson's GarageBand Learn To Play Artist Lessons for Tom Sawyer and Limelight are now available for purchase as announced earlier this week via Rush.com. For the details check out this post.
Speaking of Big Al, a couple of weeks ago the Canadian vampire/comedy film Suck premiered at the Toronto International Film Festival. Alex Lifeson has a small role as a border officer in the film. He and filmmaker Rob Stefaniuk conducted a few interviews over the past couple of weeks to promote the movie including this one with MacLeans Magazine. Alex talks about how he became involved with the project:
... It was very simple. John (Kastner) told me about it when it was in infancy I think. They were writing some music and talking about it conceptually. He mentioned it and I said sure, keep me posted and let me know, Iíd be happy to. ...
You can read the entire interview at this link. Thanks to ENTREWHO for the heads up.
In addition to his role in Suck, Alex Lifeson also has a cameo in the latest Trailer Park Boys movie - Countdown to Liquor Day - which opens for theatrical release in Canada today. Alex plays a cross-dressing cop in the film as he described in a recent Prog interview. Reader RushFanForever located this review of the film from the Edmonton Sun which reveals a few more details about Alex's role:
... Of course, there's the de rigueur appearance by Rush guitarist Alex Lifeson, here playing a drunken, undercover cop posing as a transvestite in a gay-prostitute alley (centred around a Chip Wagon that serves alcohol -- man, Halifax is one weird town). ...
Lerxst also had a cameo as a cop in the first Trailer Park Boys movie and was heavily involved with the soundtrack for that film.
On Sunday I let you know that Five-star Drum Shops is holding a drumming event dubbed as The Big Beat on Sunday November 1st. The goal of the event is to raise money for worthwhile causes and also attempt to set a world record by having as many drummers as possible playing at the same time. All who participate in the event will have a chance to win one of many prizes donated by drum vendors including a Neil Peart autographed bass drum head. For all the details including participating locations, check out the press release.

Last week Geddy Lee and Alex Lifeson launched an auction of rock memorabilia on eBay as part of their Grapes Under Pressure initiative in support of Grapes for Humanity, an organization that helps to raise funds to benefit humanitarian causes around the world with the assistance of the international wine community. Geddy Lee is a member of the board of directors for the organization. To check out all of these items and to place your bid go to this link
. The auction ends on Sunday. All proceeds will go to Grapes for Humanity.
As many of you are aware, Porcupine Tree has been touring the US in support of their new album The Incident. It's no secret that the members of Rush are big fans of Porcupine Tree and vice versa. Neil Peart makes mention of the band in his books Roadshow and Traveling Music and is also friends with guitarist John Wesley. According to reader Brad Hirsch (of Used Bin Radio) Neil Peart was in attendance at the band's September 19th show at the Nokia in Los Angeles and also attended the after party. The band will be playing at the Queen Elizabeth Theatre in Toronto this coming Wednesday, September 30th and we'll all be watching to see if Alex Lifeson will show up. Alex made a guest appearance on the song Anesthetize off of Porcupine Tree's 2007 album Fear of a Blank Planet, and rumor has it that the song is included in the band's current setlist. I'd also mentioned in last Friday's post that Porcupine Tree frontman and founder Steven Wilson is currently remixing the entire King Crimson catalog in 5.1 with the full support of King Crimson founding member Robert Fripp who also was a guest musician on Porcupine Tree's Fear of a Blank Planet. Supposedly when Steven is done with King Crimson he would like to give the same treatment to the Rush catalog. The current rumor is that Alex Lifeson has already been contacted about this and is apparently on board with it (thanks Chad!).
Ari Gold - filmmaker and star of the movie Adventures of Power - continues to tease us via twitter regarding the video of his recent air drum-off with Neil Peart which I'd mentioned in last week's Friday updates post. Ari visited the Drum Channel studios a couple of weeks ago where they filmed the drum-off. In his latest tweet on the subject he did at least include a behind-the-scenes pic of himself and Neil which you can check out here (thanks Asif K). The video should be released via the Adventures of Power YouTube channel in the coming days. The Drum Channel and Adventures of Power will also be sponsoring a charity event on October 13th live at the El Cid in Los Angeles. Since Ari mentioned in a twitter post a few weeks ago that Neil Peart would be helping out with his charity chances are that Neil will be in attendance. If you are not yet familiar with Adventures of Power, I had first mentioned it way back in February of 2008. The film - written by, directed by and starring Ari Gold - first premiered at the 2008 Sundance Film Festival and has been making the film festival rounds ever since to rave reviews. The movie chronicles the adventures of air-drummer extraordinaire Power (played by Gold) and contains a cameo from Neil Peart along with a slew of Rush references. The film will finally be making its theatrical debut next month. For theaters and show times check out the offical site at this link.
Toronto-born writer/director Jason Reitman (Juno, Thank You For Smoking) recently premiered his latest film Up In The Air starring George Clooney at the Toronto International Film Festival at Ryerson University on September 13th, and according to Reitman's twitter post on that day the film gets a thumbs up from Geddy Lee:
Just heard Geddy Lee from Rush loves UITA.
Thanks to Shane for the heads up.
Speaking of Geddy, reader Scott_PA let me know about this Geddy Lee quote regarding Bruce Springstein turning 60 that was posted over at Classic Rock Revisited:
GEDDY LEE DOESNíT LISTEN TO SPRINGSTEEN, BUT RESPECTS HIM
This news is brought to you by VH1 Radio's Dave Basner

In just a few days, Bruce Springsteen turns the big 6-0. Much of his life has been spent making music that is so good, even people who might not ordinarily listen to it still respect and admire him for it. Rush singer Geddy Lee is one such person and he told us his thoughts on The Boss.

ďI have great respect for Bruce Springsteen. Itís not the kind of music I listen to personally. If it comes on the radio, I like the songs, I admire the production but stylistically, itís just not my thing so Iíve never really followed him like that.Ē

Springsteen turns 60 on Wednesday.
Geddy also was at the Blue Jays game the other night as described in this National Post article:
... Louder still was the cheer Toronto's fans gave rocker Geddy Lee when the stadium scoreboard showed the Rush lead singer in his seat behind home plate.
There's also a video available where you can see Geddy in his seat. Thanks to RushFanForever for the heads up.
In last Friday's updates post I mentioned that there was a Rush reference on the Fox News Channel show Red Eye from September 15th. One of the show's commentators Andy Levy quoted Rush's The Spirit of Radio. Apparently he also quoted Rush's The Trees on the Thursday, September 17th show too! Thanks nevetsrush for the heads up.
Reader Dave B sent me this Toronto Star article about a rock mural on an old bar that recently changed owners. The mural featured images and logos from famous rock bands including Rush's starman logo. Unfortunately the new owner painted over the mural. You can view a photo of the mural in the article.
If you didn't see it yet, here's the trailer for the Trailer Park Boys Countdown to Liquor Day movie. Unfortunately Alex does not make an appearance in any of the movie's trailers:
If you get a chance to see the movie this weekend, let us know what you thought of it in the comments. That's it for this week. Have a great weekend everyone!