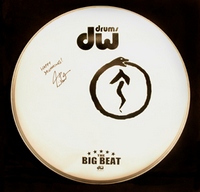 Calling all drummers! Five-star Drum Shops is holding a drumming event dubbed as The Big Beat on Sunday November 1st. The goal of the event is to raise money for worthwhile causes and also attempt to set a world record by having as many drummers as possible playing at the same time. All who participate in the event will have a chance to win one of many prizes donated by drum vendors including a Neil Peart autographed bass drum head. From the website:
Twenty-four of the top percussion vendors in the industry have donated merchandise totalling more than $180,000 in retail value for the Five-Star Big Beat that will occur in 11 cities in North America on Sunday, November 1, 2009.

Each participating store will be giving away about $16,000 worth of drum gear to participants in this exciting charity event that will benefit the Mr. Holland's Opus Foundation and in some cities, the addition of a local charity as well.

Plus, one lucky winner in one of the 11 cities will get a bass drum head with the Rush "Snakes & Arrows" artwork, autographed especially for this occasion by iconic drummer Neil Peart!
For all the details including participating locations, check out the press release. Thanks to Power Windows for the heads up.