A lot is happening in Rush-land as of late so I'll get right to it. About an hour ago I let you know that Rush will be releasing a new CD/DVD compilation this coming November which will include cuts from their 3 most recent concert DVDs: Rush in Rio, R30 and Snakes & Arrows Live. The compilation will be titled Working Men and is slated for release on November 17th. The compilation will also be offered as a standalone CD. The CD/DVD combo is already available for pre-order at Amazon at this link. But I think the even bigger bit of news is that a Blu-ray version of R30 which will include 8 additional tracks - meaning the full concert - is also slated for release on November 17th!

Last Friday the Canadian vampire/comedy film Suck premiered at the Toronto International Film Festival. Alex Lifeson has a small role as a border officer in the film and was present at the premier as shown in these photos: [photo 1] [photo 2] [photo 3]. He also showed up at the after party at the Phoenix Theatre in Toronto and joined the band Burning Brides onstage for the song Flesh and Bone which appears on the movie's soundtrack. You can check out a bootleg video of it here. The film has already sold its distribution rights to bigwig Canadian motion picture distribution/production company Alliance Films, so it should be hitting theaters later this year - hopefully in the US and UK as well as Canada. Reader RushFanForever located this MSN article about the film where Alex Lifeson is interviewed:
... Their big thing is to eat raw meat thrown at them while on stage. The leader, of all people, is Moby.

"He was great!" exclaims Rush guitarist Lifeson, who is unrecognizable in "Suck" at first blush as a rubber-gloved, gruff U.S. Customs agent near the Niagara Falls border.

"You know, Moby's a strict vegan," Lifeson laughs, recalling the sight of the bald electronica star dressed up like someone out of Judas Priest. "This role - he's so brilliant. He was totally into it, apparently."

Lifeson was the first big name on the "Suck" train - though he was originally going to contribute music to the film. He and Stefaniuk had met years earlier at a New Year's Eve party, and when Lifeson saw what his friend was doing, he wanted in. The 56-year-old was encouraged to take a role, which was right up the alley for a musician whose day job put him and bandmates Geddy Lee and Neil Peart at the centre of this year's Paul Rudd hit comedy "I Love You, Man", and who will also return on his own in the upcoming "Trailer Park Boys: Countdown to Liquor Day".

"We've been travelling across the border for 35 years," notes Lifeson, back to his familiar blond and looking nothing like the burly border guard. "We run into some great agents, and we run into some very power-hungry agents. And that was the one that Rob wanted - that bitter, angry soul that's got the power and is not gonna let anybody into his country." ...
As noted in the above article, Alex Lifeson also has a cameo in the latest Trailer Park Boys movie - Countdown to Liquor Day - which premiered at the Atlantic Film Festival yesterday evening. Alex plays a cross-dressing cop in the film as he described in a recent Prog interview. Lerxst also had a cameo as a cop in the first Trailer Park Boys movie and was heavily involved with the soundtrack for that film.
Alex was not the only member of Rush featured at the Toronto International Film Festival this week. Geddy Lee was appeared in a short documentary film from director Bruce McDonald called Geddy Lee at Massey Hall earlier this week. The film was part of the City Sonic Project - a collaboration between Toronto documentary film companies which paired Canadian music artists with award-winning Canadian filmmakers to create short documentary films about the artists' connection to places where their musical lives were transformed. The 5-minute film can be viewed online on YouTube at this link. Power Windows noticed that at one point in the documentary Geddy mis-remembers first playing Massey Hall in 1975, and then later that year after Fly By Night had come out. Rush actually first played Massey Hall on October 24th, 1974 opening for Nazareth as described in this October 1974 Billboard Magazine article.
Not to be outdone by his bandmates, Neil Peart also has a small role in a film that will get its theatrical release next month although it first premiered over a year ago. I first told you about indie film Adventures of Power way back in February of 2008. The film - written by, directed by and starring Ari Gold - first premiered at the 2008 Sundance Film Festival and has been making the film festival rounds ever since to rave reviews. The movie chronicles the adventures of air-drummer extraordinaire Power (played by Gold) and contains a cameo from Neil Peart along with a slew of Rush references. For theaters and show times check out the offical site at this link. Earlier this week reader Asif K let me know that the Drum Channel posted the following update to their Twitter page:
Neil Peart and Ari Gold of Adventures of Power in the studio today for an air-drum-off! Mon Sep 14 at 2:57pm
Then just a few hours ago Ari posted the following update to his Twitter page:
Power is off to Toronto to find the rest of Rush, after jamming with Neil Peart in California on Monday.
Asif followed up with Ari Gold and he confirmed the video shoot and said it's being edited this week and should be available for viewing on Youtube sometime next week. I'm not sure what Ari is going to do once he finds Alex and Geddy. :)

Yesterday afternoon Geddy Lee and Alex Lifeson launched an auction of rock memorabilia on eBay as part of their Grapes Under Pressure initiative in support of Grapes for Humanity, an organization that helps to raise funds to benefit humanitarian causes around the world with the assistance of the international wine community. Geddy Lee is a member of the board of directors for the organization. To check out all of these items and to place your bid go to this link
. All proceeds will go to Grapes for Humanity.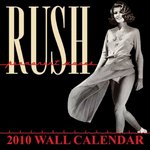 On Wednesday I let you know that the 2010 Rush wall calendar finally began shipping this past week. John over at Cygnus-X1.net received his copy and has scanned all the images from the calendar and made them available on his site at this link. The calendar celebrates the 30th anniversary of Rush's 1980 classic Permanent Waves and feature several photos from the album's recording sessions. You can order your copy at this link.
Yesterday I alerted you to a great interview with Rush's first roadie Ian Grandy that Skip Daly conducted for GuitarInternational.com. Ian worked for Rush from 1969 to 1983 which makes his point of view of the band's history highly unique since he was present from when Rush played high school gyms in the late '60s and early '70s on through to when they were selling out massive arenas in the early '80s. The article is a must read for any Rush fan. You can check it out at this link.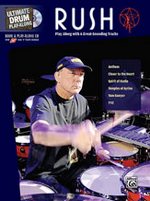 The Ultimate Drum Play-along Rush book/CD from Alfred Publishing released this past Sunday. It is a companion to the already released Ultimate Guitar Play-along Rush (released back on April 15th) and Ultimate Bass Play-along Rush (released back on June 17th) titles. You can order your copy at this link.
The Rush Backstage Club is running a new contest where you could win a signed 16" X 22" R30 lithograph. The contest ends on September 28th and you can sign up to enter at this link.
It's been a while since we've had a good Rush rumor to speculate about so here's a new one. Steven Wilson of Porcupine Tree is currently remixing the entire King Crimson catalog in 5.1 with the full support of King Crimson founding member Robert Fripp who - along with Alex Lifeson - was a guest musician on Porcupine Tree's Fear of a Blank Planet. Supposedly when Steven is done with King Crimson he would like to give the same treatment to the Rush catalog. Now here's the rumor part; apparently Alex Lifeson has already been contacted about this and is on board with it (thanks Chad!). This sounds promising! Porcupine Tree's new album The Incident released this past Tuesday.

Alex Lifeson is featured in the October 2009 issue of Golf Digest in a short article on custom golfwear designer Ralph Dunning. There's a picture of Lerxst being fitted for some custom golf threads and a few quotes as well:
... Guitarist Alex Lifeson, a part owner of Coppinwood and co-founder of the rock band Rush, is one of Dunning's best customers. He came to the service after growing weary of the "compromise" required by off-the-shelf golfwear. Lifeson says he palys golf exclusively in Dunning clothing. "I can't ever go back to off-the-rack shirts," he says. "I just feel better in custom-fit gear."

Lifeson usually calls Dunning for new clothes before Rush goes out on the road. In advance of one recent tour, he ordered rough-weather gear so he could play a few rounds when the band reached Scotland. Says the guitarist: "I couldn't believe how comfortable I was despite the weather and, stylistically, the cut and fit stood out."
Many thanks to Chris Herin of Tiles for the scan.



Earlier this summer we learned about a planned rock-n-roll-themed Decades Music Theme Park which will feature a Rush-themed Spirit of Radio Concert Hall. The facade of the building will look like the old radio depicted on the cover of Rush's The Spirit of Radio greatest hits package. Founder and Chief Creative Officer Marty West recently sent me some architectural model images of the concert hall which you can check out by clicking on the above thumbnails.
Reader nevetsrush let me know about a Rush reference on the Fox News Channel show Red Eye from September 15th. One of the show's commentators Andy Levy quoted Rush's The Spirit of Radio saying glittering prizes and endless compromizes shatter the illusion of integrity while mocking rappers.
Reader tangy from The Rush Forum let me know that JamBase featured Rush in their Saturday Eye Candy feature. You can check it out at this link.
Music journalist Steve Janowski recently wrote an article for ReviewFix.com which lists the Top 10 Classic Rock Drummers. Coming in at number 7 is our own Neil Peart. Here's what they had to say:
This drummer is a chameleon who embraces diverse styles and is the band's lyricist. This Canadian born drum ace is known for his technical flair and huge reserve of energy. His style evolved from a derivative of Bonham and Moon to a progressive and jazzy feel. This goes hand in hand with "Rush's" metamorphosis as a band. Peart has played Slingerland, Ludwig, Tama drum kits and most recently has used a 360-degree set by Sabian with acoustic drums in front and electronic ones in the rear. His drum solos are concert staples and are awe-inspiring. They contain unique time signatures and are intricate and challenging. "All the World's a Stage" and "Exit Stage Left" are live albums that display Peart's brilliance. He also released an instructional DVD, "Anatomy of a Drum Solo." Check out 2004's "R30," Rush's 30th anniversary DVD to see and hear a master at work.
Thanks to J.D.S for the heads up.
In case you haven't seen it yet, here is the video of the Geddy Lee at Massey Hall short film documentary:
Have a wonderful weekend everyone!