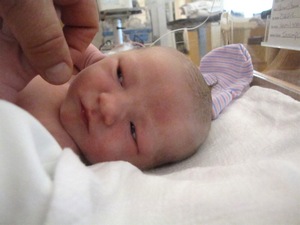 [NEWS, WEATHER, and SPORTS: September, 2009 - The Ballad of Larry and Suzy]
Neil Peart has once again updated the News page on his website, detailing the months leading up to the birth of his new daughter Olivia Louise Peart. He describes how he projected many of his fears and apprehensions regarding the birth onto a mother hummingbird who had laid her eggs in a nest outside his house, and how he obsessively would keep a protective eye on the nest day after day. In between talk of hummingbirds he had a few things to say regarding his preparations for the birth:
... Carrie and I attended a couple of lengthy birthing classes, which included graphic, gory DVDs of the labor and birth process, and there were painful-sounding descriptions of the complicated (and risky) series of steps, each one demonstrated with a lifesize doll and model pelvis bones. So many things had to happen just right that you wondered how anyone managed to be born successfully.

Most significant to me, so many things could go wrong.

We toured the birthing unit at the local hospital, shared another in-depth class on newborn care, and I signed up for a one-and-a-half hour course on infant car-seat installation and adjustment (seriously—and it was necessary). The last time I became a father was thirty years ago, when my daughter Selena was born in 1978, and it can hardly be overstated how much things have changed in three decades—not least my own blithe self-confidence that, in those days, allowed to me trust that everything was going to be all right. Since Selena's death in 1997, at age 19, I no longer had that faith.

What I did have was a bottomless well of fears for all those I cared about, and in this case, not just for all that could go wrong with the developing baby, and with a mother in childbirth, but recognizing that even given the best-case scenario—a healthy baby—my fears would only be beginning.

August 10 would be the twelfth anniversary of Selena's death, and Carrie's due date was August 12, so I was also sending out supplications to any available deity that the new baby not be born two days early—it would be awful to have her birthday fall on what would always be the worst day in my calendar. ...
But everything turned out just fine:
... On August 12, 2009, Olivia Louise Peart hatched into the world.

In early discussions of a possibly long and painful labor, I had said I might not want to remain in the delivery room. People seemed to think I was squeamish about blood, but it was actually about the pain. I wasn't sure how much of Carrie's suffering I could bear to witness. Blood I can take, in small doses, and my own pain I can stand, to some extent, but not a loved one's agony.

But it worked out all right, and I was able to be in the operating room, masked and shrouded in sterile green, for the entire procedure—holding myself resolved, ready for whatever I might have to handle. ...

... A couple of times lately in Bubba's Book Club I have touched on the notion that "being good" often simply means "behaving better than we are." Now it occurs to me that being good can also be about behaving better than we feel.

Very important, that notion. ...

... Within a minute after Olivia's birth, I was touching and holding her while the medicos cleared her breathing passages, dried her skin, and swaddled her. Then I carried the tiny bundle over to introduce her to her mother. A few minutes later, I accompanied Olivia on her first journey, down a long hallway to the nursery, where she was weighed (seven pounds twelve ounces) and checked over by the pediatrician.

While she lay there in the clear plastic bassinet, I tried to soothe her (the naked weighing had especially outraged her delicate sensibilities, yet I had smiled to hear her strong cry of protest). I reached my finger into her fist, and felt her tiny fingers close tightly around it.

I whispered, "Hold on, baby, hold on."

I was talking to her, and to myself.
What a wonderful update this was; it brings a tear to the eye. Be sure to check out the beautiful high-res photo of Oliva over at Neil's website (just click on the smaller image in the story) too. What a cutie! Thanks to Nettie for the heads up.