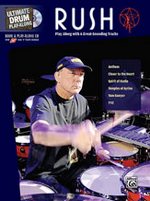 Alfred Publishing will release an Ultimate Drum Play-along Rush book/CD on September 13th as a companion to its Ultimate Guitar Play-along Rush (released back on April 15th) and Ultimate Bass Play-along Rush (released back on June 17th) titles. We first heard of this planned release via an advertisement in the June 2009 issue of DRUM! Magazine (the Neil Peart issue). From the product description:
Learn to play your favorite Rush songs with these terrific transcriptions and play-along tracks. The CD contains two version of each song: a complete version for demonstration and a play-along version without drums so you can play with the rhythm tracks. Plus the CD contains embedded software that allows you to slow down, loop and even transpose keys! Plus, there are matching guitar and bass editions available!
The song titles included are Anthem, Closer to the Heart, The Spirit of Radio, The Temples of Syrinx, Tom Sawyer and YYZ. You can pre-order your copy at this link. Thanks to Andrew Olson for the heads up.