UPDATE - 9/3@8:49PM: According to Pegi at Anthem the track was taken from a live performance on the Permanent Waves tour at the Apollo in Manchester on June 17, 1980 with producer Terry Brown and engineer Andy Rose using a mobile truck recorder from Mobile Studio London. Thanks to Eric at Power Windows for the info.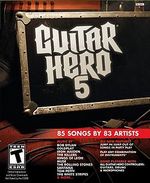 As we reported several weeks ago, a live version of Rush's The Spirit of Radio is one of 85 songs to be featured on the next installment of the Guitar Hero music video game - Guitar Hero 5 - which releases today. When the complete track list came out back in July, the press release listed the version of The Spirit of Radio included as being from 2008 which would mean the Snakes & Arrows Live version. But over the past several days many leaked YouTube preview videos of the song have been posted and the track is clearly not the Snakes & Arrows Live version or any other previously released version that I'm aware of. Check it out:
There's an ongoing discussion regarding the track over at Counterparts. The consensus at this point is that it was recorded at some point in the early '80s. If anyone has any further info as to where this version comes from please let us know.
Guitar Hero 5 features 85 songs and is similar to its predecessor Guitar Hero World Tour in that it is geared towards playing in a four-person band experience, including lead and bass guitar, drums, and vocals - but it also has some new features. For details check out the Guitar Hero 5 website. You can order it via Amazon at this link.