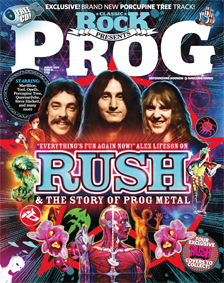 Things are finally starting to get interesting again in Rush-land. This past week we got a look at the new Alex Lifeson interview in the current issue of Classic Rock presents ... Prog, and Lerxst had a LOT of great information to share with us all. First and foremost, the band tentatively plans to hit the studio this Fall. There's also a sidebar article where Rush Documentary filmmakers Sam Dunn and Scot McFadyen are interviewed. We learn several more details about the documentary including the unfortunate fact that we probably have to wait until the Summer of 2010 for a release. Alex also talks about his involvement with Apple's Garageband software, and mentions that he has a cameo playing a cross-dressing cop in the new Trailer Park Boys movie Countdown to Liquor Day. While we're on the subject of Alex, he will be turning 56 this coming Thursday, August 27th. Happy early birthday Lerxst!
So as it stands right now, it's going to be a very busy 2010 for Rush; we could potentially see a new album and tour, a Rush documentary should be released, the band may get their Hollywood Walk of Fame star, and - who knows - they might even get inducted into the Rock Hall finally. :) So which of these events do you think will occur first (or at all)? Take the Poll and let us know. Here are the results of the last poll where I asked everyone what they thought of Neil's involvement with the new Vertical Horizon album. The vast majority of you (40%+) think it was very cool and are pleased with the result.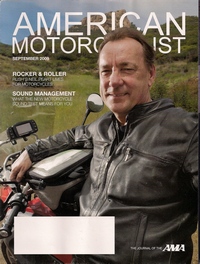 Neil Peart was the subject of the cover feature in the September, 2009 issue of the American Motorcyclist - the magazine of the American Motorcyclist Association. The article celebrates the fact that he was recently awarded an Honorary Life Membership in the Association. Richard J. Atkins Ed. D. and Don Argento (director of the AMA Motorcycle Hall of Fame and Museum) presented the award to Neil and also interviewed him for the magazine. The article is titled Rocker & Roller: Rush Drummer Neil Peart Lives For Motorcycles. He's Also One Incredibly Thoughtful Guy. Neil shares his thoughts on motorcycles and motorcycling including how he learned to ride, what he likes in a motorcycle and his riding style. You can check out scans of the article in this post.
Last Friday Dream Theater played the Molson Amphitheater in Toronto and performed a cover of Rush's The Camera Eye which you can check out some bootleg videos of in this post.
Yesterday I let you know about the forthcoming documentary on Welsh rockers the Manic Street Preachers. It's called No Manifesto and will contain a small Rush cameo. Bassist Nick Wire is a huge Rush fan and had the honor of interviewing Geddy and Alex after Rush's Wembley gig back in 2007. The documentary contains some video footage of this meeting as seen in this preview clip. The movie is slated for a tentative release sometime this Fall.
Speaking of documentaries, a couple of new documentaries exploring the Canadian music scene in the 1970s and '80s will be running on the CBC over the next several weeks. You can bet that Rush will get a mention or several. For more information and air times, check out this Toronto Star article. Thanks to RushFanForever for the heads up.
Porcupine Tree's Steven Wilson's playlist for this past Monday as shown on his website lists 12 albums including Rush's A Farewell to Kings. Just last month Wilson's playlist included Rush's Hemispheres. The man has good taste! Thanks to chutch15 for the heads up.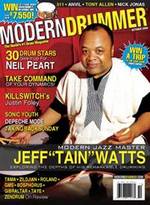 According to Cygnify over at Counterparts, the October 2009 issue of Modern Drummer contains an article where 30 professional drummers discuss Neil Peart and his influence on their careers. A few of these can be read on the Modern Drummer website at this link.
Reader 1001SOS let me know about a rush reference at lifehacker.com. They review an application called ControlPad which uses the number pad on your keyboard as a quick launcher for applications and system commands. They use the number 2112 for their example and challenge readers to guess which application they linked the number to.
Reader ou812112 let me know that Rush's Red Barchetta made autonet.ca's list of The best songs about cars, coming it at #6. Here's what they said:
With lyrics by master storyteller Neil Peart, this song is about a future where new cars are mostly automated and the passion involved in driving is being lost. If you enjoy driving, you'll be able to relate to lines like 'well-weathered leather, hot metal and oil, the scent of country air.'
And while on the subject of Red Barchettas, Autoblog.com has an extensive photo gallery featuring a collection of Ferrari 166MM Barchetta's at this week's Pebble Beach Concours d'Elegance. Thanks to Ros-ma Kloma at Counterparts for the link.
Last week I let you know about the City Sonic Project - a collaboration between Toronto documentary film companies White Pine Pictures and Kensington Communications. The project pairs Canadian music artists with award-winning Canadian filmmakers to create short documentary films about the artists' connection to places where their musical lives were transformed. One of the 13 short films pairs Geddy Lee with director Bruce McDonald. Geddy is followed as he takes viewers on a tour inside the legendary Massey Hall (where All the World's a Stage was recorded). All 13 films will have their world premier as part of the Toronto International Film Festival's TIFF in Concert program at Yonge and Dundas Square which runs from September 10th through the 19th. New films will premiere each day of the Festival and all City Sonic screenings are free to the public. City Sonic recently posted all the screening times to their website and Geddy Lee at Massey Hall will screen on September 13th at 12PM. To check out a couple of photos of Geddy on location during the filming, go to the Facebook event page or check out the above thumbnails.
Richard L pointed me to this American Profile article where the Hemphill Brothers Coach Company is profiled. Rush's tour manager Liam Birt is quoted in the article:
... Liam Birt, tour manager for the rock group Rush, has nothing but praise for the brothers and their business. "I've used the Hemphills on Rush, the Red Hot Chili Peppers, Queensryche, and Crash Test Dummies tours, all with outstanding results," he says. "They understand we don't work in a 9-to-5 environment and that they need to be able to reach out 24/7 to keep these tours rolling. Like myself, it's how they grew up—on the road." ...
Former Max Webster frontman and Rush friend Kim Mitchell is a DJ at Q107 in Toronto. On his Friday show he does something called the Friday Traffic Jam where he takes a song that he likes and jams to it on guitar. This past Friday the song he picked was Rush's Far Cry. To listen to the audio clip just go to this link and scroll down in the audio player to Kim Mitchell takes on Rush's "Far Cry" for the Friday Traffic Jam. Thanks to RushFanForever for the heads up.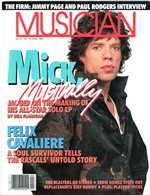 Reader RushFanForever recently dug up this quote from Led Zeppelin's Jimmy Page which mentions Rush in the April 1985 issue of Musician Magazine:
... Speaking of raw enthusiasm, how does Page regard the recent profusion of heavy metal thrash, for which he must surely be attributed some of the blame? "I do like the new heavy metal bands, because they're not polite," Jimmy sniggers. "It's just not polite; it's good! It's like 'Fuck you.' I used to go to a club in town called the Funny Farm and they played heavy metal music all the time like Rush, who are extremely good." ...
Alex referenced the above interview in his and Geddy's November 2008 appearance on the CBC's The Hour:
George: Page said that Rush was one of the bands he was excited about right?

Alex: Yeah they mentioned that in an interview somewhere.
Jimmy Page is one of Alex's biggest influences as he described in this June 1980 Guitar Player interview:
... "Page was probably my greatest influence early on," affirmed Alex Lifeson of the durable Canadian trio Rush. "Rush started just a little before the time Led Zeppelin came out, and when I heard the first album, I thought, 'They're doing just the things we want to do; they have the sound we want to have.' And if we were that good, we could have played like that too, if you know what I mean." ...
Alex also mentions his admiration of Page and how he finally got to meet his hero in this March 2006 Guitar Player interview:
... "I wanted to look like him, and play like him and be just like him," Lifeson remembered his youthful infatuation with Page, which came full circle when they came face to face backstage many years later. "You meet your hero, and he's a hero! He was everything I hoped he would be – I'll never forget that." ...
The Musician quote and the March 2006 Guitar Player quote were both later referenced in the 2007 Jimmy Page biography Jimmy Page: Magus, Musician, Man, and the Musician quote is also mentioned in Hammer of the Gods: The Led Zeppelin Saga. Speaking of Led Zeppelin, check out Led Zeppelin Swag to purchase the above referenced books and a bunch of other cool Led Zeppelin merchandise.
A couple of Fridays back our own air guitar/drum master LanceTheShred (host of RatCon 2009) competed in the US Air Guitar finals in Washington DC. Lance was featured in an NBC news story about the event. Unfortunately Lance did not win (he came in fourth) but - as promised - Rush was well-represented in his performance as you can see by watching his performance video below.
That's it for this week. Have a great weekend!