Neil Peart's going to be a daddy again! This wondrous announcement was definitely the undisputed highlight of this past week in Rush news. In his most recent update to his website which he posted Friday night, Neil Peart broke the news that his wife Carrie Nuttall is 7 months pregnant. Congrats to Neil and Carrie!
Speaking of Neil's website, tomorrow he'll be launching the new cooking section of NeilPeart.net which has been dubbed Bubba's Bar 'n' Grill. He promises that he'll be offering helpful cooking tips and easy recipes ... presented through stories that aim to illuminate, instruct, and entertain. Neil won Drummer of the Year in DRUM! Magazine's Reader's Poll for the third year in a row. He was also voted as the Best Progressive Rock Drummer. The complete results will be published in the August 2009 issue of the magazine. And in case you missed the Drum Channel's live chat with Neil Peart, Doane Perry (Jethro Tull) and Terry Bozzio (Frank Zappa) from a couple of weeks ago, they've posted it to their website at this location.
Earlier this week we celebrated the 5th anniversary of Feedback, and on Wednesday learned that the Grace Under Pressure Tour Video will finally be released as an audio CD next month.
Yesterday I alerted you to a new interview with Alex Lifeson conducted by Mike Mettler of Sound & Vision Magazine titled Snakes Alive! The S&V Interview with Alex Lifeson of Rush. The focus of the interview is the Snakes & Arrows Live Blu-ray and Alex specifically discusses his experience working with Rich Chycki. You can read the entire interview at this location.
Speaking of Lerxst, according to this article in the National Post Alex Lifeson was spotted at Morton's Steakhouse in Toronto last weekend:
... It was a Canadian bonfire of sorts at Morton's on Saturday, when two founding members of sketch gang The Kids in the Hall broke bread — and bone-in fillet — with Rush's guitar-god. Neither Dave Foley nor Kevin McDonald nor Alex Lifeson skimped on dessert. ...
Thanks to Bob for the heads up.
And Back in December I alerted you that Alex Lifeson would be making an appearance in a Canadian vampire horror/comedy film from writer/director Rob Stefaniuk called Suck. Alex has a short cameo as a border officer in the film. There's now an official Facebook page for the movie which lists the release data as October 2009. Thanks to RushFanForever for the heads up.


Axe Heaven makes miniature replica guitars of famous musicians, including several Geddy Lee and Alex Lifeson models. I've mentioned them a couple of times in the past and Eric over at the Power Windows site has collaborated with Jason from Axe Heaven to help ensure that the replicas were as accurate as possible. They currently have 2 Alex Lifeson replicas, a Geddy bass replica and a Geddy 3-bass set replica. I've also confirmed via Jason at Axe Heaven that they'll soon be producing a Geddy Lee Rickenbacker 4001 as well as a Neil Peart Snakes & Arrows kit replica. Jason also has very generously offered a 10% off coupon for RIAB readers! Just use the coupon code TEN2009. Thanks to glortiz (a very satisfied Axe Heaven customer) for the heads up.
If like me you regularly visit the Power Windows Rush fan site, you'll know that owner/operator Eric has a knack for creating some great themes based on Rush's album art. So far he has featured themes for all of Rush's albums except for A Farewell To Kings, All The World's A Stage, Rush In Rio, Archives, Chronicles, Victor and - oddly enough - the site's namesake Power Windows... until now at least. He finally got around to creating a Power Windows theme which he is currently featuring on his site. The theme gets more inspiration from the lyric notes and back cover than the front cover itself. It's definitely worth checking out. He promises to eventually have themes for all the albums (even Victor!).
I have some unfortunate news regarding online rock t-shirt company Saltyrockz.com. Apparently they will no longer be selling any Rush-inspired t-shirts after receiving a letter from Rush's management demanding that they stop selling them. It doesn't look like they were breaking any copyright laws but they thought it best to respect their wishes. Thanks to El Chico Analogo for the heads up.
Back in April I let you know about a science-fiction novel from first time author William Joseph which came out this past November titled A World Without Divide: The Night Sarah Came Home. The book focuses on a group of college students who manage to survive a cataclysmic event in the near future brought about by a multi-national, governmental social-conditioning experiment called the Utopia Project whose leaders intend to re-populate and inhabit Earth with perfectly-conditioned members of their utopian society. You can learn more about the book and read a short excerpt at this link. The story has many parallels with Ayn Rand's Anthem and Rush's 2112 story, so the author sent me a copy and gave away 3 more copies to a few lucky RIAB readers. He received some great feedback including this from Kevin:
Just wanted to let you know that I have finished the book and I loved it! Not only a great story, but a great telling of the story. I read from chapter three to the end in one sitting. I found chapter 15 to be my favorite part of the book. You really captured something there. I can't wait for the next book.
The author informs me that the second book in the series is coming along nicely.
A couple of weeks ago I let you know how longtime reader Spindrifter has a baby cousin named Livia Hope Fortner who has Cystic Fibrosis. Livia's parents set up a website dedicated to Livia with the goal to raise awareness about Cystic Fibrosis. Spindrifter wanted me send out a big thank you to everyone who checked out the website and were generous enough to donate. Livia's parents were very impressed with the response they received from RIAB readers.


While vacationing in New England recently, reader Ian P visited the Boston Museum of Science and happened to come across their Black Hole exhibit. The exhibit makes reference to Rush's Cygnus X-1 as being an example of how black holes have influenced culture and music. They even depict the sheet music from the song. You can check out some photos by clicking on the thumbnails above.
Reader Brian located a reference to Rush's One Little Victory in this article at Gamespot on a new race video game called iRacing.
Former Yes keyboardist Rick Wakeman's son Oliver is also an accomplished keyboardist himself who is currently playing with British progressive rock band Strawbs and recently toured with Yes. Oliver also happens to be a big fan of Rush as demonstrated by the caption on this photo at his website (3rd from the left):
Oliver during the interval of the show at Hugh's Room with Rod Coombes (Drums), Kim Mitchell (of radio station Q107 in Toronto and member of the Canadian 70's rock band 'Max Webster') and Terry Brown (Record producer of two of Oliver's favourite albums Rush's 2112 and Hemispheres!). Photo taken by Dimo Safari.
Thanks to RushFanForever for the heads up.
Reader Dave W located a Rush reference in the July issue of Wired magazine on page 66 where columnist Scott Brown talks about his cultural upbringing and how he's irreplaceable by international outsourcing. He states
... So what if the Bangalore creatives never watched "Tranzor-Z" or air-drummed to Rush? ...
You can read the whole article online at this link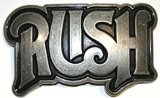 Are you a Rush fan whose pants keep falling down? Then you obviously need a belt with a big official Rush logo belt buckle! And you probably also need a Rush patch along with a bunch of Rush buttons for your jean jacket. You can purchase these items along with a bunch of other cool Rush swag at RushSwag.com.
And I leave you this week with this cleverly-constructed Rush/Beastie Boys mashup video which reader Gary V (aka The Owl at The Rush Forum) found over at CollegeHumor.com. The video's heading reads sometimes, when famous trios of white guys won't get together in real life, you've got to mash them up yourself. :)
That's it for this week. A happy 4th of July to everyone and a belated happy Canada Day to all of my Canadian friends. Have a great weekend!