Although Rush is currently on hiatus, Alex Lifeson is keeping himself very busy lately. Last week he helped Canadian rockers The Tragically Hip close out a 6 night stand at Massey Hall in Toronto by making a guest appearance for the band's encore. He also wrote a few paragraphs about the experience which you can read online at Rush.com. This past Saturday he took Sammy Hagar and Chad Smith out on the town in Toronto the night before Chickenfoot's Sunday show at The Mod Club Theatre in Toronto, for which Alex was in attendance. You can check out some video and read all the details in this post.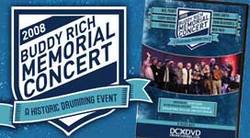 The 2008 Buddy Rich Memorial Concert DVD is now available for purchase online just as the Drum Channel had promised earlier this month. The 3-DVD set retails for $39.95 and includes over two hours of concert footage plus nearly two hours of rehearsal and backstage footage. You can purchase your copy via the Drum Channel website or through Amazon.com.
The Rush Backstage Club is running a new contest where you could win an autographed Roll The Bones tourbook signed by all three members of Rush. The contest ends on June 8th and you can sign up to enter at this link.
The July 2009 issue of Modern Drummer magazine contains the results of their 2009 reader's poll. Neil Peart came in second in the Best Rock Drummer category and third in the Best Progressive Rock Drummer category. The issue will hit newsstands on June 2nd.
Yesterday I let you know about a new rock-and-roll-themed amusement park that is being be built in Eloy, Arizona starting in 2010 called Decades Music Theme Park. It's currently still in the planning stages and their target date to open is in the Fall of 2013. The park will feature interconnected Lands and Districts that represent each decade of rock music with interactive thrill rides, live music and other attractions. One of the planned attractions is the Rush-themed Spirit of the Radio Concert Hall.

The 2009 Rush East Coast TabCon will take place next weekend (June 5th-7th) at Pope John Paul II Elementary School in West Brandywine, PA. For more information be sure to visit the Rush TabCon website and to view videos of past performances, check out the Rush TabCon page on YouTube.
This past Wednesday, May 27th was the 10th anniversary of Rush receiving their star on the Canadian Walk of Fame. They are also set to receive a star on the Hollywood Walk of Fame this year, although no date has yet been set for the ceremony.
Several folks emailed me regarding the death of former Toronto Maple Leafs hockey star Peter Zezel. He died earlier this week at the age of 44 from complications due to a rare blood disorder. Zezel was a cousin and good friend of Alex Lifeson. Our thoughts and prayers go out to Alex and all of Peter's family.
Reader Sean recently made me aware of a 2007 book titled Dimensions Behind the Twilight Zone which contains a short essay written by Neil Peart. You can read the first paragraph of the essay at this link.
John over at Cygnus-X1.net has posted another collection of old Rush articles and interviews to complement the ones he had posted last month. You can check them all out here.
According to Blabbermouth.net, recently reunited Canadian thrash metal band Sacrifice will include a cover of Rush's Anthem on the bonus edition of their upcoming album The Ones I Condemn.
Reader grazza let me know of a Rush reference on the bonus DVD that accompanies progressive metal band Mastodon's new CD Crack The Skye. At about the 24:30 mark bassist Troy Sanders talks about how excited he is to use his his new 1979 Moog synthesizer. He remarks It is totally badass. Geddy Lee uses one. So there you go...
Rush's Xanadu gets a nod in this article titled Songs About Fictional Places. Here's what they say:
... Rush draw heavily on Samuel Taylor Coleridge's opium-induced dream of Kubla Kahn in their promise to "find the sacred river Alph, to walk the caves of ice". Once there, Geddy Lee promises: "I will dine on honeydew, and drink the milk of Paradise." ...
Reader Working Man 64 made me aware that guitarist Zakk Wylde (Black Label Society, Ozzy Osbourne) mentioned on his twitter page a couple of months ago that he was interviewed for the upcoming Rush documentary:
Meeting and greeting fans in Toronto- then sitting down for an interview for a RUSH documentary. - 11:13 AM Apr 4th from web
The Yahoo Music Blog's List of the Day strikes again, including Rush on their list of 25 Token Performers for a given genre of rock. They pick Rush as the token performer for the Progressive Rock genre. Here's what they say:
In another era, I would've said say "Yes" or "ELP" but those bands haven't stuck it out like RUSH who have more dedicated readers of this blog than those other bands combined.
Reader Priest_ofSyrinx let me know that Rush was well represented in 97.9 The Loop's Rock-n-Roll 500 over the past holiday weekend where they played 500 top rock songs including 16 from Rush:
#473 - Time Stands Still
#408 - Freewill
#394 - Red Barchetta
#332 - New World Man
#311 - Entre Nous
#293 - YYZ
#264 - The Trees
#227 - 2112 (Temples of Syrinx)
#194 - In The Mood
#189 - Closer to the Heart
#166 - Working Man
#116 - Fly By Night
#113 - Subdivisions
#103 - Limelight
#48 - Tom Sawyer
#9 - The Spirit of Radio

Reader Mike D has a colleague who is an amateur maker of cakes and cupcakes and was looking through her portfolio recently when he came across this image which bears a striking resemblance to a certain album cover you may be familiar with. :)
That's all for this week. Have a great weekend everybody!