UPDATE - 5/23@12:17AM: The RushCon 9 tribute band has been announced - as I'd mentioned below. Limelight will perform at their 3rd RushCon (they also played at RushCon 4 and 7) on Saturday, July 25th at C'est What in downtown Toronto. The show is free for RushCon attendees and open to the public for a $10 CND cover charge.
I also had meant to mention that 2112, the UK's premier Rush tribute band will play at The Moses Gate in Bolton this coming Sunday the 24th of May. Check out their website for details.
----- snip -----
The two big Rush news items of the past week were Alex and Geddy's hour-long interview for CBC Radio's Q on Wednesday along with Alex Lifeson's surprise guest appearance at the Tragically Hip's Tuesday night show at Massey Hall in Toronto. We also had two pieces of Rock Band Rush news to report, a Bubba's Book Club update from Neil Peart and a new book from Rock journalist and author Greg Prato titled No Schlock...Just Rock! which features an article titled The Stories Behind the Song: The Spirit of Radio, Rush.
On Tuesday evening Canadian rockers The Tragically Hip closed out a 6 night stand at Massey Hall in Toronto and celebrated by bringing out Alex Lifeson as a guest guitarist for their 2-song encore. You can check out a great video of the appearance along with all the details in this post.
Alex Lifeson and Geddy Lee were guests on CBC Radio's Q with Jian Ghomeshi Wednesday morning. The hour-long interview was very loose and entertaining, but we didn't really get any new information or hints at any future plans for Rush. You can download the entire interview at this link or listen to it using the player below.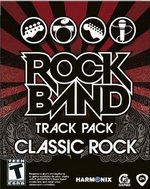 This past Tuesday Harmonix Music Systems - makers of the popular Rock Band video game - released their Classic Rock Track Pack version of the game, which includes 2 Rush tracks; Closer to the Heart and Red Barchetta. And yesterday I let you know that Rock Band Unplugged releases this coming June 9th and will also feature a Rush track; namely The Trees which was also featured on Rock Band 2.
Michael at NeilPeartDrumsticks.com posted photos of the new Neil Peart Drumsticks for 2009 earlier this week. You can check them out here.
Registration for RatCon 2009 has been extended to next Tuesday, May 26th and the organizers have now given attendees the option for a special Saturday-only admission price of $75. You can check out all the details on the RatCon website.
According to the RushCon Twitter page The RushCon tribute band will be publicly announced sometime today. RushCon will take place the weekend of July 24th. You can get all the details at the RushCon website.
Speaking of Twitter, reader DeWayne H let me know that cyclist Lance Armstrong has an official Twitter page and posted the following message earlier this morning:
Beautiful morning here in Italy. Flat(ter) day today in the Giro. Chillin' in my room, Rush on the ipod.
Lance has good taste in music. Have you checked out RIAB on twitter yet? You can follow my updates at this link.
In last week's update I let you in on the weird piece of news that Neil Peart's drumkit was in an Awesome-Off over at Awesome-Off.com against a ... bookmobile. I'm happy to report that the drumkit won and also went on to win an Awesome-off against a Coracle as well. But unfortunately the drumkit then went on to lose the Awesome-off versus James T. Kirk of Star Trek. :)
Reader Warren C pointed me to this article over at The Onion's AV Club where Lord Grunge of Canadian rap duo Grand Buffet is interviewed. They chose 12 random songs from Lord Grunge's rock iPod playlist and Rush's The Trees popped up at numero uno. Here's an excerpt of what he had to say about it:
A big hit by maybe my favorite band of all time. Itís off the Hemispheres LP, of which Iím a huge fan. Rush is one of the first bands I actually started following as a band, like when I was 10 or 11. My older brother turned me on to them, and it might be the only band I just liked right away. Upon hearing them for the first time, I thought they were amazing. I know thereís kind of a resurgence now; a lot of hipsters pretend to like Rush. Iím a diehard fan. Iíve seen them 14 times in concert. I donít f**k around when it comes to Rush. ...
Cool. To read everything he had to say, check out the article at this link.





I have a few more old Rush magazine scans to share with you. This batch is from a July 1981 issue of Circus magazine. Thanks to RushFanForever for locating these.
Reader Phil Simon has just released his first book: Why New Systems Fail: Theory and Practice Collide. While the subject matter is not directly Rush-related, Phil intersperses Rush references throughout the book. Phil also alerted me to sportswriter John Feinstein's new book titled Are You Kidding Me: The Story of Rocco Mediate's Extraordinary Battle with Tiger Woods at the US Open. On page 46 Feinstein details how Mediate and fellow golfer Lee Janzen bonded over Rush. Rocco Mediate is also good friends with Alex Lifeson.
Reader RushFanForever let me know that Geddy Lee was spotted at another Blue Jays game earlier this week. You can check out a photo at this location.
And rushisaband.com has made the big time; the site gets a mention in the urban dictionary definition of rush head. Thanks to twilightzone for the heads up.
Here's the video of Alex Lifeson performing with the Tragically Hip Tuesday night:
Have a great Memorial Day weekend everybody!