UPDATE - 5/26@7:01PM: For those of you signed up for Rush Mobile, a link was sent out to users recently which directs you to a page on Rush.com where you can read a little write-up by Alex Lifeson detailing his experience playing with The Tragically Hip. For those of you not signed up you the link is here. Thanks to Sean for the heads up.
UPDATE - 5/21@7:29AM: Here's a much better quality video (thanks Chris K for uploading it to his YouTube channel and RushFanForever for the heads up):
----- snip -----
UPDATE - 5/20@11:15PM: Here's another video (thanks RushFanForever).
----- snip -----
UPDATE - 5/20@4:42PM: Reader RushFanForever sent in this grainy video of the encore, along with this ChartAttack.com link of some photos from the show including one of Alex Lifeson.
UPDATE - 5/20@3:12PM: Here's an image of Alex from the show. Thanks to reader Andrew S for the heads up and to Chris Kirkpatrick at Flickr for the photo.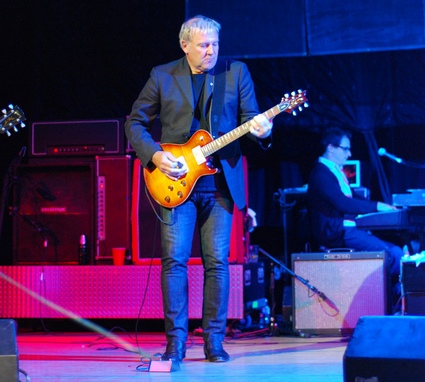 ----- snip -----
Canadian rockers The Tragically Hip closed out a 6 night stand at Massey Hall in Toronto last night and celebrated by bringing out a very special guest for their 2-song encore. Alex Lifeson came out and performed with the band on The Last Recluse off of We Are The Same and Little Bones from Road Apples. He played the solo on Little Bones. The Tragically Hip are big fans of Rush (and vice versa). They opened for them once on the Roll The Bones tour at Maple Leaf Gardens in Toronto and also have covered Limelight. If anyone has any pictures or video from the show, please let me know. Many thanks to Toronto2112 and Andrew W - both of whom were at the show - for the heads up.