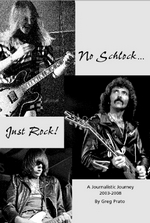 Rock journalist and author Greg Prato has just released a new book titled No Schlock...Just Rock! which collects his various magazine writings from 2003-2008. From the publisher's description:
Before he was the author of such books as A Devil on One Shoulder and an Angel on the Other: The Story of Shannon Hoon and Blind Melon, Touched By Magic: The Tommy Bolin Story, and Grunge is Dead: The Oral History of Seattle Rock Music, Greg Prato was a writer for such respected UK-based publications as Classic Rock, Guitarist, Metal Hammer, and Record Collector. 'No Schlock…Just Rock!' collects most of Greg's writing for these mags between a five-year span (2003-2008), with the focus on the crème de la crème of classic rock, heavy metal, and punk/alt-rock. Included are features that explore the entire careers of Faith No More, Soundgarden, Bad Brains, Meat Puppets, The Cars, The Raspberries, and GG Allin, as well as additional interviews/articles on the Ramones, Cheap Trick, Black Sabbath, Judas Priest, Jethro Tull, Rush, King Crimson, Steely Dan, William Shatner, and Run-DMC (among many others), plus the 3 articles that later led to Greg's Melon, Bolin, and Grunge books.
Included in the Classic Rock section of the book is an article titled The Stories Behind the Song: The Spirit of Radio, Rush. To find out more about the book and to order a copy go to this link. Alex Lifeson is one of the three artists pictured on the cover. You may remember Greg Prato from his December interview with Alex Lifeson at UGO.com. Thanks to Blabbermouth for the heads up.