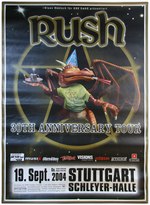 [Win A 30th Anniversary Stuttgart Gig Poster]
UPDATE - 4/7@12:45PM: Vote for Rush! :)
The Rush Backstage Club is running a new contest where you could win a 30th anniversary Stuttgart tour poster. From the website:
This is the Gig Poster that hung on the walls in the Schleyer-Halle in Stuttgart, Germany! September 19th 2004. It is 24" x 36". This is from the 30th Anniversary Tour. This contest closes at the end of the day April 12th, 2009. Our system only accepts one entry per email address.
You can sign up to enter the contest at this link. Thanks to plunge for the heads up.