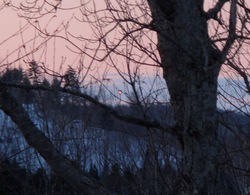 [NEWS, WEATHER, and SPORTS: March, 2009 - The Quest for the Phantom Tower]
Neil Peart has updated the News Page on his website,
discussing time recently spent at his retreat in the Laurentian mountains of Quebec. He describes the recent installation of a cell phone tower close to his home there, and curses the intrusion of technology to his soulscape. He calls the red light from the tower the eye of satan and chronicles a quest he and his neighbor went on last winter to see the tower up close, complete with several beautiful photographs. You can read the the entire thing and check out the photos at this link. Thanks to Snoscootr for the heads up.