UPDATE - 4/1@9:37AM: Readers Keith W and Scott B sent in scans (see right) of the page from their Visions books with the correctly-labeled Rush Hadrian photo. The caption states Rush with Mitch Bossi. Case closed!
UPDATE - 3/31@9:34AM: Apparently a correctly-labeled version (with Mitch Bossi instead of Lindy Young) of the Hadrian 1969 photo is included in the now-out-of-print 1988 Rush biography Visions. If anyone has this book and can scan the photo/caption for us, let me know.
UPDATE - 3/30@2:01PM: Reader RUSHGIRL corroborates the story as well. Apparently the earlier, accurate photo of Hadrian was put out there by Lindy Young himself partly to clear up the fact that the Hadrian 1969 photo was mislabeled and it wasn't him in the photo. He's also shared the photo with the makers of the Rush documentary due out later this year.
UPDATE - 3/30@1:42PM: Several of you have noted that in the earlier photo of Hadrian - the one that's been floating around the net for as long as I can remember - the guys look markedly older than the later photo. I noticed this too and thought it was a bit odd. But I really had no other information to go on; that Hadrian 1969 photo has been around so long that most fans take it as the gospel truth. So then AnalogKidVideo emails me and tells me that the Hadrian 1969 photo was actually taken around 1971 and that the Lindy Young pictured isn't Lindy Young at all, but Mitch Bossi - information he claims was obtained from John Rutsey himself. Mitch Bossi was Rush's rhythm guitarist in early 1971 - so this would make a lot of sense and I tend to believe it. If true, that Hadrian 1969 photo isn't Hadrian nor is it 1969. It should be relabeled as Rush 1971! So here you go: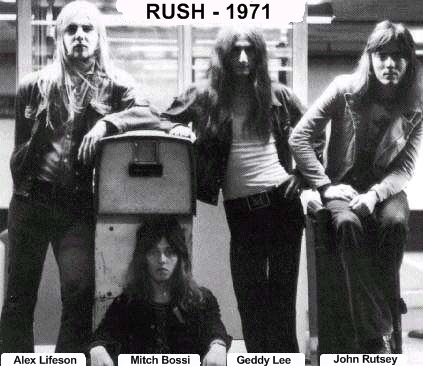 If anyone has evidence to the contrary - that the Hadrian 1969 photo is accurate - please let me know. But for now I think I'll go with this.
----- snip -----

Rush was formed back in 1968 by Alex Lifeson, Jeff Jones, and John Rutsey. Jones was soon replaced by Geddy Lee and the band would see several lineup changes and a couple of name changes until solidifying the Lifeson/Lee/Rutsey lineup in 1971. One of these incarnations was a band called Hadrian which was in existence from January through July of 1969. From January to May of that year Hadrian consisted of Geddy Lee on lead vocals and bass, Alex Lifeson on lead guitar, Lindy Young (Geddy's now brother-in-law) on keyboards and rhythm guitar, and John Rutsey on drums. There's been a photo of this lineup of Hadrian floating around the internet for years. Here it is: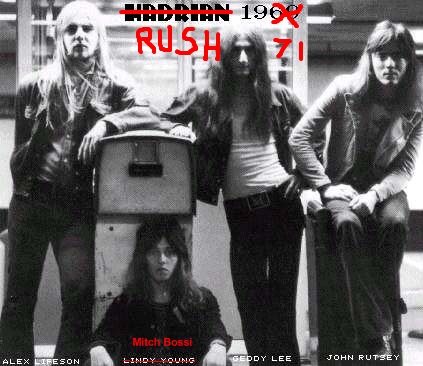 In May of 1969, Geddy Lee was replaced by Joe Perna on bass/vocals for a couple of months before Hadrian broke up in July. I'd never seen a photo of this lineup and didn't know whether one even existed until reader RushFanForever recently discovered one while doing a Google image search. It came up on a genealogical page for the descendants of Salomon and Lydia Lindman (apparently these were Lindy Young's great grandparents). The photo is captioned as follows:
Joe Perna, Alex Lifeson, John Rutsey and Lindy Young (Louise's son) in the heavy metal group Hadrian (1969)
And here is the photo (for a higher-res version see here):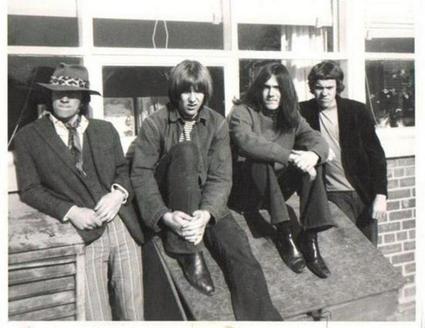 I have no reason to doubt the authenticity of this photo, and the images of Lifeson, Young and Rutsey certainly bear a resemblance to the trio from the earlier Hadrian photo, albeit with shorter hair. As an added bonus there's also this photo of Geddy's wife Nancy, Lindy and their sister Barbara with their mother Louise from 2006. Very interesting stuff.