The news this past week was of course dominated by the Tuesday release of Rush's Atlantic-era greatest hits package Retrospective 3. Geddy Lee was on the radio interview circuit this week promoting the release and I've been keeping track of these in my radio interviews roundup post. He was supposed to be on the Bob and Tom show this morning and probably a few others - just keep an ear out to your local rock stations. Probably the best (and longest) interview thus far was the one from the Jim Kerr Rock and Roll Morning Show on Q104.3 in New York yesterday morning. It was a bit longer than normal and they have video available which you can watch at this link. Otherwise most of the interviews are not very noteworthy and seldom last more than 5 or 10 minutes. Reader Collin B also let me know that Y106 in Columbus, IN will be airing a 1-hour long special in celebration of Retrospective 3 where they will be playing songs from the compilation interspersed with interview segments. And Allmusic.com recently posted their review of the album and it's very positive. Here's an excerpt:
... what really transpires through this listen is the feeling that Rush are still very much a band; they reached the end of a lull only to get hungry again, reached for a new zenith, and shook off the complacency of their position as a ponderous and progressive veteran stadium juggernaut. In turn, they became a taut, wily rock & roll band again, putting on epic shows and creating thought-provoking, ass-shaking hard rock records. This is the latest evidence. Here's hoping there is a Retrospective, Vol. 4.
Rush has also teamed up with VH1 Classic to promote the Retrospective 3 release this week by running a promo commercial along with airing Rush in Rio and the band's That Metal Show appearance. I've also heard that this June VH1 Classic will be airing the Snakes & Arrows documentary The Game of Snakes & Arrows that was included with the MVI version of Snakes & Arrows alongside an edited version of the Snakes & Arrows Live DVD concert.
Speaking of Snakes & Arrows, MitA has yet another round of cool Rush audio swag for us - all from that album. Included in this batch are the isolated bass and drums from Malignant Narcissism, Geddy's isolated bass from The Main Monkey Business, the hidden Alex guitar solo on Good News First, the hidden Geddy Mandola part from Good News First, the isolated Geddy bass intro from Far Cry, the previously-inaudible chord-changes on Faithless, the hidden piano keyboard part from Faithless, and the previously buried Alex guitar part from Bravest Face. You can listen using the provided links or the player below. Thanks MitA!
We got to submit questions to Atlantic Records for Geddy Lee earlier this week. He was in the Atlantic offices on Wednesday and was supposed to answer some of the questions on video to be posted on Rush.com at a later date. I'll let you know when it's available online.
Earlier today we got the details regarding this year's RushCon fan convention. We already knew that the event would take place the weekend of July 24-26th in Toronto. In addition to all the usual RushCon events, this year there will be 2 exciting guest speakers; Michael Mosbach and Martin Popoff. The theme of this year's convention is Elevate From The Norm. You can check out the flyer with the complete details at this link.
Sunday we got a look at a recent Bass Guitar magazine interview with Geddy Lee, and on Monday we dug up a video interview of Alex Lifeson from his December appearance at the Andy Kim Christmas show.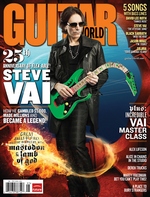 Reader Eric D let me know that the current issue of Guitar World magazine contains an interview with Alex Lifeson.
The Neil Peart signed Drum Workshop drum head charity auction for Southern California Deputy Sheriff Robert "Bobby" Corrales and the T.J. Martell Foundation was a huge success. The auction closed over $1000. Michael at NeilPeartDrumsticks.com had offered to throw in a few sticks if it closed over $1500. So the auction winner decided to throw in another $500 and got the sticks! Very cool.
Speaking of charity, reader Mark W (aka AFarCryfromFBN) wanted to thank all the RIAB members who supported his effort to raise money for the March of Dimes, March for Babies. There are still over 50 days left until the walk, so please take a moment to check out Mark's site and give if you are able.
Reader jensawyer pointed me to this humorous article which lists 10 Rush Lyrics That Should Be Fortune Cookie Inserts. On a side note, Jim Kerr mentioned these in his recent radio interview with Geddy Lee.
The Chicago Tribune crossword puzzle from Friday, February 27th had a nice little Geddy reference. The 4 down clue was Lee of Rush. You can check it out at this link. Thanks to ort for the heads up.





I have another old Rush article scan for you from reader Kevin B. This one is from a February, 1977 issue of Circus magazine. It's an interview with Geddy Lee promoting the All The World's a Stage live album. You can check out the article by clicking on the thumbnails above.


Reader Tom B sent me this very early ad for Rush's first album which appeared in the October 12th issue of Billboard Magazine. It's interesting to see some of the names of the venues they played back then.
And I'll leave you with this 1997 video interview of Geddy Lee conducted on the CBC in the wake of the band receiving the Order of Canada (thanks RushFanForever).
Have a great weekend everyone!