All considered, this past week was a fairly busy one for Rush news tidbits. Alex Lifeson made a surprise guest appearance at Saturday night's Trailer Park Boys Community Service Variety Show at Massey Hall in Toronto. He came out towards the end of the show to perform Closer to the Heart with the boys. You can check out a video of it at this link. On Tuesday I posted an interview with Geddy Lee from the latest issue of German magazine Bass Quarterly which you can check out here. Just yesterday we were treated to a view of the working promo poster/cover for the upcoming Scot McFadyen and Sam Dunn Rush documentary, and we also learned that the film has a planned November release date. And last but not least, your humble webmaster (me) was quoted in a USA Today article which was posted online late yesterday titled Grammy for Rush? There's always hope. The article contains snippets from a Geddy Lee interview and addresses the question of why after such a long and illustrious career Rush has yet to win a Grammy or be inducted in the Rock Hall.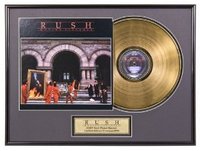 Back in October Rush's 2112 was introduced as the first in a series of officially licensed, limited edition framed gold records commemorating classic Rush albums to be made available by Photo File. They have just recently also made available gold records celebrating Moving Pictures, Signals, Grace Under Pressure, and Power Windows. These 18"x24" framed and matted album depictions include a 24KT gold-plated record and an image of the album cover along with an individually numbered text plate. For details and to place an order go to this link.
In its ninth week of release the Snakes & Arrows DVD is hanging on to the top 10 at #7 on the Billboard Top Music Video chart - down from its #5 position last week.
The long-anticipated Kyle Newman film Fanboys finally releases next Friday. The film follows a group of Star Wars-loving geeks in 1998 who travel cross country so that their dying friend's dream of watching Star Wars: The Phantom Menace at Skywalker Ranch before its release can come true (trailer here). The film is reported to be chock full of Rush references and include several Rush songs on the soundtrack. One of the main characters - Hutch - is a huge Rush fan and spends most of the film in a Rush t-shirt as depicted in this photo.


While we're on the subject of movies with Rush references, reader Morphiaflow was lucky enough to see a sneak preview screening of the upcoming film I Love You Man which stars Paul Rudd as Peter and Jason Segel as Sydney. We've known for some time that the movie contains a Rush cameo and several Rush references, but Morphiaflow had some more details to report including the fact that there's one scene in the film's finale/closing credits where the cast is jamming to Limelight at a wedding reception. He also reveals that the song they are jamming to in the movie's trailer (depicted in this image) is Tom Sawyer and Rudd's character is playing what looks like a Geddy Lee signature Jazz Bass. And during the concert scene (depicted in this image) Rudd's character proclaims I haven't seen them live since the Signals tour!. The film is set to release on March 20th and you can check out the trailer at this link.

Canadian singer/songwriter Jacob Moon's rooftop rendition of Rush's Subdivisions has become a YouTube hit amongst Rush fans. But it's not just Rush fans who like it - Rush themselves like it too! About a week ago Jacob posted the following in the comments to his video on YouTube:
I just got an email from Geddy himself!
Here's what he had to say:

"The guys have all seen this and think it's terrific.

Kudos to Jacob and best of luck ...

Great voice!!

best,
Geddy"

You gotta love it when Geddy himself gives you a compliment. I can die now!!
Very cool. Thanks to PD for the heads up.
The Rush Backstage Club is running a new promotion for the upcoming Retrospective 3 greatest hits package. When you order the CD/DVD version you will get a free 4GB USB stick custom made for the Snakes & Arrows tour and loaded with the video of Red Sector A from R30. Good deal. Thanks to lilvictory for the news.
In Alex Lifeson's recent Modern Guitars interview, Alex stated the following when discussing the untimely death of original Rush drummer John Rutsey:
... that last year, in 1973, we had a substitute drummer for a while because John was really sick. We had some gigs we had to play, and so we had this substitute drummer. Jerry Fielding was his name. ...
Reader Asif K may have dug up some information on the elusive Jerry Fielding - assuming his name is actually spelled with a G rather than a J. Could this be him?
Sports radio personality Jim Rome is broadcasting live from the Superbowl all this week. Earlier this week Jim noted that one of his producers was wearing a 2112 t-shirt. Jim stated that his producer was Rocking a Rush Shirt and he thought it was cool. This sparked a discussion about Rush off and on for the entire 3-hour show. Jim even replaced his traditional Welcome to the Jungle intro to the last half hour with Tom Sawyer. At one point the producer admitted that he only knew one Rush song - Tom Sawyer. Jim then started dogging him about it and named lots of Rush songs that he listened to in his college days such as Bastille Day, YYZ and Red Barchetta. He said Geddy Lee should come down there and take him out for wearing a shirt and only knowing one song. :) Thanks to readers Rick and Mahogie for the info.
Yahoo! Music blogger Rob O'Connor recently included Neil Peart among his list of the 10 Worst Rock Lyricists. Neil was #8:
The joke is that Peart doesn't ever sing the lyrics. He hands them off to the bass player. Grab any Rush album and sit down with the lyrics and before listening to the music imagine how YOU would attempt lyrics that often sound as if they're not coming from someone who wishes to be a poet, but from someone who is apparently writing school textbooks in his spare time.

Evidence: "Catch the witness, catch the wit, Catch the spirit, catch the spit."--"Tom Sawyer."
Whatever. Rush also made his list of Ten Performers Who Were Never Called The Voice Of A Generation:
Rush sang about society! They sang about outerspace, the future, geopolitics. Their worldview seems every bit as thought out, if not more so, than that of the Clash or U2. Is it because they're Canadian?
Thanks to Brian C for the heads up.
Rush's Permanent Waves made this list of the 25 Greatest Albums Ever - Of All Time! Redux. Thanks to Spindrifter for the link.
Reader bravest_face alerted me that the latest issue of Revolver is a special Ultimate Fighting Issue and includes a feature story titled Insane Band Member Brawls!. In a bit of really bad taste, they include Alex Lifeson's 2004 New Year's Eve run-in with Florida cops along with Big Al's mugshot.
Microsoft Songsmith is a recently-launched music composition software package for Microsoft Windows which can generate a musical accompaniment for a voice track. Not surprisingly, various YouTubers have been taking the voice tracks to many classic songs and running them through the software to humorous effect. Yes... Tom Sawyer is one of them. Prepare to be dazzled (thanks Mars):
Ouch! Have a great weekend everyone!