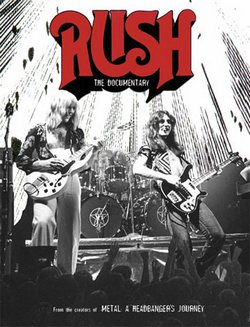 UPDATE - 1/29@11:07AM: Eric from the Power Windows site just let me know that Rock biographer Martin Popoff is involved with the documentary, and according to him they are planning to release the movie in November.
Back in September of 2007 we learned that filmmakers Scot McFadyen and Sam Dunn - creators of the critically acclaimed, award-winning documentary Metal: A Headbanger's Journey - were planning on creating a documentary on Rush. They were present at RushCon 2007 and both Toronto shows on the 2007 leg of the Snakes & Arrows tour getting footage and interviewing fans. The original official press release about the project came out in October of 2007 and the plan was to release the documentary in late 2008. But due to another project they were working on simultaneously (an Iron Maiden documentary) it looked like the project might be put on hold for a little while. Just a couple of months ago a new official press release was put out which stated the following:
Directors Scot McFadyen and Sam Dunn of Banger Films Inc. - and their historical films Metal: A Headbanger's Journey and Global Metal - are gearing up for the upcoming release of RUSH - The Documentary. According to a new press release, "the film will be the first to reveal the inner workings of one of the world's most enduring rock bands and will engage both die-hard Rush fans and general music lovers. The documentary examines the history of Canada's best-known rock band. It delivers the first in-depth portrait of Geddy Lee (bass/vocals), Alex Lifeson (guitar) and Neil Peart (drums) tracing their heir musical evolution and personal struggles from when they first picked up their instruments, through their early tours with KISS and AEROSMITH all the way to their Billboard chart topping Snakes And Arrows album and tour."

The film features interviews with members of METALLICA, TOOl, KISS and THE FOO FIGHTERS.
Along with the press release was a sellsheet which you can check out here. Grindstone Media is one of the financiers of the project and now have a page up on their website for the documentary which confirms a 2009 release date and also includes a working promo poster/cover image which you can check out here. Thanks to TMMB for the heads up.
Related Posts:
[Rush: The Documentary update]
[Sam Dunn on the upcoming Rush documentary]
[Rush: The Documentary]
[RushCon report]