[49 songs from north of the 49th parallel]
UPDATE - 1/14@9:32AM: Phil P let me know that he was listening to the CBC morning show and they mentioned that Rush had surged into 3rd place in the contest. The RIAB bump strikes again! :)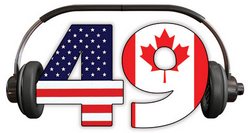 CBC Radio is running a contest to determine the 49 songs that best define Canada to incoming US President Barack Obama. Rush's Closer to the Heart is one of the songs nominated. From the website:
Beginning Monday, January 5, CBC Radio 2 invites Canadians to help select the top "49 songs from north of the 49th parallel" that would best define our country to the incoming U.S. President Barack Obama.

His playlist could definitely benefit from some Canadian content, especially given the depth of our musical offerings – spanning a wide variety of genres and representing our culture from coast to coast.

"One of the best way to know Canada is through the depth and breadth of our artistic expression," says Denise Donlon, Executive Director, CBC Radio. "We're excited about the new President and we want him to be excited about us, so we're asking our audience to help compile the list of our most definitive Canadian songs!"

Thank you for all your nominations, we have tallied them down to 100 songs. You have until Friday, January 16 at 11 p.m. ET. to vote for your favourites.

So, what Canadian music do you think is the most definitive 49 songs from North of the 49th parallel?
You can see all the nominees and vote for Rush at this link. Thanks to Zyrannix for the heads up.