The highlight of this past week in Rush news was the posting of some preview excerpts from an Alex Lifeson interview for Modern Guitars magazine on the Counterparts messageboard. The interview was conducted by Skip Daly - the cofounder of BOS Music as well as the creator of the infamous Rush Petition site. In the excerpts provided Alex talked about his and the band's disappointment with how the Vapor Trails album was recorded. He also discussed the possibility of remixing the entire album because Richard Chycki's remixes of One Little Victory and Earthshine for Rush: Retrospective 3 turned out so well. Alex talked about how he just discovered some old pre-1974 tapes that might have some interesting stuff on them such as recordings of songs like Run Willie Run, Slaughterhouse, Garden Road and other songs that they wrote and played during the early bar days. He also pretty much debunked the rumor that the next tour would be their last, essentially reiterating what he had stated in his recent Toledo Blade interview and what Geddy had intoned in his Billboard interview. They also touched on songs that almost made recent set lists such as The Camera Eye and A Farewell to Kings and how sites such as the Rush Petition help influence their choices. The full interview will be published at the Modern Guitars website in the near future.
Alex also performed at the 4th annual Andy Kim Christmas Show Wednesday night at The Mod Club in Toronto, ON. You can see a bunch of great pictures and video in this post.
We learned yesterday that - according to the official sellsheet (thanks to Power Windows) - the release of the Retrospective 3 greatest hits package has been delayed yet again. The official release date is now February 24th.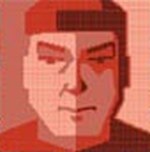 Neil Peart will be among the 50 drummers featured in the Cut To The Drummer art show and drumming event to be held at the Steam Whistle Gallery in Toronto this coming February. For all the details check out this post.
In its second week of release the Snakes & Arrows DVD has dropped to #2 on the Billboard Top Music Video chart - down from its #1 debut last week (thanks Snoscootr). Darryl Sterdan reviewed the DVD for The Ottawa Sun and gave it 4 out of 5 stars. Here's the review:
Rush's new three-DVD concert video has everything you want from Dirk, Lerxst and Pratt: Virtuoso musicianship, all the requisite epics, a killer drum solo -- and plenty of goofball antics (this may be the only music video with a blooper reel). What it doesn't have: The usual closeups of hot chicks in the front row (unless you count the Barbie dolls on Alex's pedal board). Go figure.
Thanks to Armeee for the heads up.
Earlier this year I'd mentioned the Flat Earth Brewing Company in Saint Paul Minnesota because they feature a Cyngnus-X1 Porter as a tribute to their favorite band - Rush. For the month of December, they are holding their Porterfest event at the brewery and featuring several additional infused versions of the their Rush inspired Porter. Here's the calendar along with the featured brews:
* 12/4 - Hold Your Fire Porter - Spice & Ancho Pepper infused Porter
* 12/11 - Mystic Rhythms Porter - Raspberry infused Porter
* 12/18 - Freewill Porter - Vanilla infused Porter
* 12/23 - Snow Dog Porter - Peppermint infused Porter
* 12/31 - Big Money Porter - Wood aged Porter
Thanks to Power Windows for the heads up.
Several folks sent me this link from online satirical news site The Onion. In their Monday edition of American Voices they feature a story titled Acorns Missing In Northeast and ask their readers what they think. Plumber Kevin Smerker states the following:
It looks as though the revolt of the Maples as foretold by the bard Geddy Lee has finally come to pass.
Good stuff. The Onion is known to occasionally reference Rush in their stories such as in this infamouse article from 8 years back titled Congress Debates Coolness Of Rush.
Speaking of satire and Rush, Ray of the Rush Fan Film Project has been keeping himself busy lately by creating a few satirical Rush Celebrity Interviews. So far he's interviewed Neil Diamond, and Debra Messing & John Leguizamo. Funny stuff. And if you haven't seen the La-Pre-Show Strangiato Rush fan tribute video yet, you can check it out here.
Ever since Rush has released the master track versions all the tracks on Moving Pictures for the Rock Band video game, a few industrious folks have been isolating the individual tracks and posting them to YouTube. YouTube user MasterTracks18 has posted versions of the drum track for YYZ, the bass track on Tom Sawyer, the Limelight vocal track and the vocal track on Tom Sawyer. Very cool. Thanks to John for the links.
Reader Doug B let me know about a company called Axe Heaven which makes miniature replica guitars of famous musicians. They have 2 Alex Lifeson replicas, a Geddy bass replica and a Geddy 3-bass set replica. Miniature versions of Geddy and Alex are not included. :)
Reader Pat let me know that this year's Best American Essays collection includes On Celestial Music by Rick Moody, originally published in Salmagundi in 2007. In it, Moody considers the power of music, hypothesizing which music we might listen to in heaven. In section 3, The Heavenly Jukebox, he writes, "Could I, for example, hear The Spirit of Radio by Rush in heaven (assuming I'm virtuous), even though I won't allow myself to listen to it on earth because it is simply too embarrassing? What if hearing Rush would (arguably) make me happy for all eternity?" And later he returns briefly to it in the last sentence of the essay: "All kinds of other music are apparent in this [celestial] music, even though they are lost, all possible music is contained in this infinite music, so Otis Redding is in there, and Simon and Garfunkel, and Funkadelic, and Arvo Pärt, maybe even Rush, because everything is in there, and in this way I am gone and gone is good, but I am also a very excellent musician and no one is any better, except the artful arranger of all sounds."
Here's a bootleg video of the Smashing Pumpkins performing a bit of Tom Sawyer and YYZ at a show at the Palace Theatre in Cleveland last month.
Have a great weekend everyone!