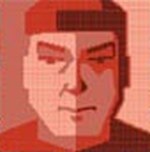 UPDATE - 12/12@1:23PM: Thanks to Jim we now have an image of Neil's portrait.
Cut to the Drummer is an art show and drumming event in support of F.U.M.S. for the MS Society of Canada Scholarship Fund. It will feature 50 portraits of 50 drummers by 50 artists including a portrait of Neil Peart by Toronto artist Greg Mably. The month-long exhibition at the Steam Whistle Gallery in Toronto will kick off with a one-night-only celebratory reception and Drum-O-Rama on February 5th, 2009 hosted by Darrin Pfeiffer of 102.1 The Edge and Goldfinger, and Aaron Solowoniuk of Billy Talent.
The kickoff reception will include a VIP Preview from 7-9PM which will include a private reception and silent auction. The portraits are expected to fetch between $300 - $2500 each with all proceeds going to the MS Society of Canada Scholarship Fund. The Art Opening and Drum-O-Rama starts immediately after the reception and will run until midnight. The Drum-o-Rama will be a showcase of drumming styles and talents involving local stars and up and comers performing solo or head to head. It promises to be a loud, drummy night, with plenty to see and hear, and some surprises that the event organizers are keeping to themselves. Tickets for the VIP Preview are $150 and tickets for the Art Opening/Drum-O-Rama are $30. You can purchase your tickets via TicketWeb at this link.
Thanks to Metal Tim at BW&BK for the news.