UPDATE - 12/6@3:13PM: Also added a Facebook Page for Rush is a Band...
UPDATE - 12/6@11:16AM: For all of you who are Facebook junkies, I just created a group for RushIsABand.com. You can check it out and join the group at this link.
This past week in Rush news was pretty much all about Alex Lifeson. Sunday's Toledo Blade featured an interview with Lerxst where he had a lot to say about the band's future and confirmed much of what Geddy Lee had revealed in his recent Billboard interview. Alex even teased us all a bit by mentioning how their producer Nick Raskulinecz is pushing them to think about doing another concept album! On Tuesday we received a triple dose of Alex Lifeson news. We learned that Alex would be appearing in an upcoming Canadian vampire horror/comedy film from writer/director Rob Stefaniuk called Suck; he will be performing at the 4th annual Andy Kim Christmas Show on Wednesday, December 10th at The Mod Club in Toronto; and we also got to see a bunch of photos of Alex (complete with mustache!) from the Orbit Room's 14th anniversary party which was held this past Saturday. And that's not all! Wednesday the nominees for the 2008 Grammys were announced and Alex Lifeson's live performance of Hope from Songs For Tibet: The Art of Peace was nominated in the Best Rock Instrumental Performance category. Whew...
On Saturday longtime Rush keyboard tech Jack Secret (aka Tony Geranios) posted his recording of the track White Flag - which Neil Peart wrote the lyrics for - to his MySpace page. Also posted is the Rush collaboration Tough Break which was first posted online earlier this year.
Rush was also mentioned in Saturday's episode of VH1 Classic's new metal-themed talk show hosted by Eddie Trunk - That Metal Show. The Throwdown segment of the show pitted Rush Fans against The Kiss Army. You can read all the details in this post.
The full concert video of the Buddy Rich Memorial Concert is scheduled to be available on-demand via the Drum Channel website on December 23rd, and then on DVD and Blu-ray sometime in 2009. The Drum Channel recently posted a 5-minute online preview which you can check out here.
Rush's Snakes & Arrows DVD was released on November 24th and we learned yesterday that in its first week of release it topped Billboard's Top Music Video Chart at #1. Speaking of the Snakes & Arrows DVD, here's a review of it from the Austin American Statesman's Rob Palladino.
Now that the DVD is out and most of you have been able to see it, I thought I'd ask everyone how it stands up against other Rush live videos/dvds. I posed this same question back in October of 2007 and at that time Rush in Rio was the overwhelming favorite with 50% of the vote. Here are the complete results of that poll. So which of Rush's live dvds/videos is your favorite? Take the Poll and let us know.
In our last poll I mirrored the poll on the RushCon site asking folks where they prefer RushCon 9 be held. And just like RushCon's poll, the overwhelming winner with nearly 40% of the vote was my hometown of Cleveland - the city where Rush got its first big break thanks to Donna Halper and WMMS. If you didn't read my post detailing the importance of Cleveland in the history of Rush you can check it out here. The RushCon organizers are putting together a report regarding the RushCon 9 location and will let us know when it's ready.
Reader mr soul pointed out to me that the newly-revamped official Rush MySpace page contains an embedded music player with every Rush song from every album in it. Cool.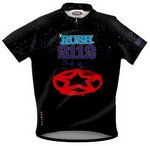 Cycling apparel company Primal Wear recently introduced a Rush 2112 Men's Cycling Jersey. It features the 2112 album cover and is club cut with a 3/4 hidden zipper, 3 rear pockets, and 100% Prosensor Advanced Moisture Transfer and Comfort Technology. The jersey retails for $79.95 and can be ordered here. Thanks to Power Windows for the heads up.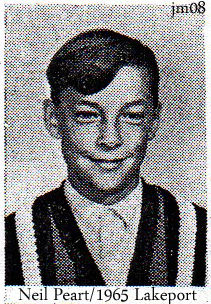 Tragically_Hip over at Counterparts has unearthed Neil Peart's 9th grade yearbook picture. It's from the 1965/66 school year at Lakeport High School in St. Catherines, ON. It was likely taken in 1965 right around Neil's 13th birtday. Here's the full picture of his class, and here's Neil's pic blown up.
The Power Windows site recently let us know that the songs of Rush are the subject of a new article found in the July 2008 issue of the academic journal Popular Music & Society. The article is titled Open Secrets: Individualism and Middle-Class Identity in the Songs of Rush and was written by Chris McDonald. Here's the abstract:
This article examines how the songs of the progressive rock group Rush can be understood as a manifestation of North American middle-class identity, and considers how individualism and escapism play integral roles in the formation of a largely male, middle-class, suburban world view. The article contextualizes and critiques the individualistic nature of middle-class identity, as it is presented by Rush in songs such as Subdivisions and Tom Sawyer.
The release date of Neil Peart's Roadshow Illustrated Companion has been pushed back yet again. It was originally scheduled to release in September of 2007 and was later pushed to July 25th. The latest release date listed on several online retail sites is December 15th (Amazon says December 25th), although the Rounder Books website says nothing at all about the book. We'll see what happens but I'm guessing that you won't be receiving this in your stocking this Christmas. :)
In April we learned about a Neil Peart Studio ProFile project from Sonic Reality. Sonic Reality originally had hoped to release the profile by the end of this year but it now looks like it won't be released until at least April of 2009. Thanks to Andrew Olson for the heads up.
According to Moving Target Geddy Lee is featured in issue #40 of the UK's Bass Guitar Magazine. The magazine also contains a poll of the 40 best bass lines ever and Rush's Digital Man came in at #38.
Alex Lifeson gets a mention in this article on guitarist Stephen Bennett:
Alex Lifeson of the rock band Rush recently saw Bennett play in Toronto, looked him up, and learned some things from him that he incorporated into the new, largely acoustic Rush album.
Thanks to Lerxst Is God for the heads up.
The Rush Fan Film Project debuted its La-Pre-Show Strangiato Rush fan tribute video last night. This 10-minute plus video brilliantly intermingles Rush's La Villa Strangiato with photos and short videos of Rush fans from the 2008 leg of the Snakes & Arrows tour as they follow the Rush Tour forum banner across the continent. The goal of the Rush Fan Film Project is to celebrate and document Rush fandom. From the site:
This site is a tribute to the greatest fans in music. Rush fans are an interesting group. We come from all walks of life and disagree on many isuues, but all LOVE this band. There's a near Deadhead-like devotion to this group (maybe a little less weed and a little more beer). Many fans will do extensive travel to catch as many shows as they can on each tour, while others may only go to their local shows but are quick to point out that they haven't missed a local show since 19**. Alot of fans don't care for certain albums, or have even dismissed any new material since whatever album, yet they are still inspired to attend shows, post on message boards, perform their own covers on youtube, etc.

I'm not using this site to discuss the band or it's music, just the fan's devotion to it. I will post original fan made content I may come across, or have sent to me on the Rush Fans being Rush Fans page. Tribute bands are invited to send me their feature youtube clip for inclusion on our tribute band page. Fans with Rush related vanity license plates are invited to send me a picture for the license plate page.
Well said. I suggest you check out the site if you haven't already. Here's the video:
Have a great weekend everyone!