Stewart over at the National Midday Sun has posted the album cover for Rush's upcoming Atlantic-era greatest hits package, Retrospective 3. The album will be released on January 27th and come in both a CD and a CD/DVD version. The tracklist will contain one unreleased live track (Ghost of a Chance from the 2008 leg of the S&A tour) along with 13 studio tracks. The DVD will contain 10 Atlantic-era music videos along with live videos of The Seeker, Secret Touch and Resist. Also of interest are 2 remixed/remastered versions of One Little Victory and Earthshine off of 2002's Vapor Trails. Here's the album cover and the complete tracklist: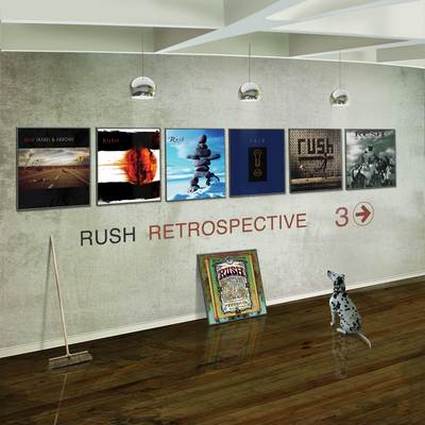 Disc: 1 (CD)

1. One Little Victory (remix)
2. Dreamline
3. Workin' Them Angels
4. Presto
5. Bravado
6. Driven
7. The Pass
8. Animate
9. Roll the Bones
10. Ghost of a Chance (live)
11. Nobody's Hero
12. Leave That Thing Alone
13. Earthshine (remix)
14. Far Cry

Disc: 2 (DVD - Atlantic-era videos)

1. Stick it Out
2. Nobody's Hero
3. Half the World
4. Driven
5. Roll the Bones
6. Show Don't Tell
7. The Pass
8. Superconductor
9. Far Cry
10. Malignant Narcissism
11. The Seeker (live)
12. Secret Touch (live)
13. Resist (live)
Thanks to rtrushfan for the heads up.
Related Posts:
[Rush: Retrospective 3 release date pushed back to January]
[Rush: Retrospective 3 greatest hits album tracklist revealed]
[Rush: Retrospective 3 greatest hits album due out in December?]
[Rush to end Atlantic relationship with new greatest hits package; in negotiations with Rounder]