UPDATE - 10/20@4:56PM: Reader Professordrums let me know that Neil's Buddy Rich Memorial Concert kit has arrived at Dale's Drum Shop in Harrisburg, PA as was mentioned Friday. Check it out if you are in the area.
UPDATE - 10/20@9:52AM: Here's a great review along with pics and videos from rushfan4life at The Rush Forum.
UPDATE - 10/20@9:39AM: Here's a bootleg video of the big band version of YYZ from the concert (thanks timbale). And Cathy Rich has uploaded a few images from the after party to her MySpace page including this one with Neil Peart in it (thanks Asif K).
VIDEO REMOVED
----- snip -----
UPDATE - 10/19@12:01PM: Thanks to TheAntipop at Counterparts here's an mp3 recording of the big band version of YYZ.
UPDATE - 10/18@11:12PM: It's over. Wow. That was incredible. I hope everyone enjoyed it - I sure did. Looks like Neil did too.
UPDATE - 10/18@10:41PM: Neil!!!
UPDATE - 10/18@9:49PM: Surprise guest: Peter Erskine.
UPDATE - 10/18@7:43PM: The show has started - switch to the main feed now. Cathy Rich is introducing the show. If you are having trouble with the feed switch the resolution from High to Low (upper right).
UPDATE - 10/18@7:29PM: Our own windycitygirl called in and chatted with Terry! :) The show should be starting shortly ...
UPDATE - 10/18@7:06PM: John Blackwell ...
UPDATE - 10/18@6:51PM: Tommy Igoe now ...
UPDATE - 10/18@6:39PM: Chad Smith just walked in ...
UPDATE - 10/18@6:35PM: Terry Bozio and some other dude are chatting. Don Lombardi (founder of the Drum Channel) is there too.
UPDATE - 10/18@6:24PM: Aha. The backstage cam is where the action is right now.
UPDATE - 10/18@6:19PM: They've started streaming the pre-show although it's just a shot from the back of the theater showing a lot of empty seats and people setting up the stage.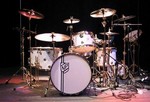 The Buddy Rich Memorial Concert takes place tonight at the Hammerstein Ballroom in New York City. The event begins at 7:30PM EST with preshow activities at 6PM. It will be streaming live via the Drum Channel website and recorded in Hi-def for worldwide release sometime next year. A number of drum virtuosos and musicians will be featured including Neil, Nick Rich with the Buddy Rich Band, John Blackwell, Terry Bozio, Chad Smith, Jeff Berlin, Will Lee and Tommy Igoe. You can check out the complete details at the Drum Channel website, in this Sabian.com press release and in this ad for the event. Here's the program for the concert:
Introduction with Cathy Rich

Tommy Igoe: Little Train, Preach And Teach, La Fiesta

John Blackwell: No Jive, Nutville, Mind Of Jay

Donnie Marple Solo performance

Terry Bozzio featuring Efrain Toro: Some Skunk Funk, Venture Brothers Medley w/Cowboy BeBop, Machine

Intermission (15 min)

Tommy Igoe featuring Will Lee: The Chicken, Willowcress, La Fiesta

Nick Rich: Beulah Witch; Mercy, Mercy, Mercy; The Beat Goes On with Cathy Rich

Chad Smith: Dani California, Hocus Pocus, Birdland

Neil Peart: Love For Sale, Time Will Tell, Cottontail/One O'Clock Jump, YYZ
It's not clear to me whether the pre-show activities beginning at 6PM will be streamed live or not. I guess we'll find out at 6PM. :) For everybody going have a great time! Hopefully there won't be any technical issues with the streaming.