UPDATE - 9/26@11:30AM: In what is arguably the strangest poll of all time, Rush (live act) is up against Bruce Dickinson (frontman) for the title of Greatest of Everything at the Greatest of All Time Blog. As of this posting, they are tied at 50% each. So go vote for Rush! Thanks to ashpkt for the heads up.
Only 8 more weeks to go until the release of Rush's Snakes & Arrows DVD and shortly after that we'll be getting the new Retrospective 3 greatest hits package. So it stands to be a stellar holiday season for us Rush fans. Just last week we learned all the juicy details about the DVD and are now waiting for some more information regarding the greatest hits package. At this point all we know is that it's due out December 9th, will cover the Atlantic era, will have a CD+DVD version available (possibly with Atlantic-era videos?), and it's rumored to contain some unreleased live tracks.
In addition to the DVD and Retrospective 3 news, we have Rush Hashanah to look forward to this coming Monday and Tuesday. VH1 Classic will be airing 24 hours of Rush in celebration of the Jewish holiday Rosh Hashanah starting Monday at 7PM EST. Here's the complete schedule:
Monday 9/29

7-10pm: VH1 Classic in Concert- Rush, Rush in Rio
10-10:30pm: Hangin' With Rush
10:30pm-1:30am: VH1 Classic in Concert- Rush, R30
1:30-2:30am: Rush Videos
2:30-3am: Hangin' With Rush
3-6am: VH1 Classic in Concert- Rush, Rush in Rio

Tuesday 9/30

6-7am: Rush Videos
7-10am: VH1 Classic in Concert- Rush, R30
10-11am: Rush Videos
11-11:30am: Hangin' With Rush
11:30-2:30pm: VH1 Classic in Concert- Rush, Rush in Rio
2:30-3:30pm: Rush Videos
3:30-4pm: Hangin' With Rush
4-7pm: VH1 Classic in Concert- Rush, R30
And here's the commercial promo that's been running on VH1 Classic (thanks Sean):
The list of nominees for induction into the Rock and Roll Hall of Fame for 2009 were announced last week. To no one's surprise Rush was excluded from this list for the 10th year in a row. Like most rock fans, Mark Caro of the Chicago Tribune isn't happy with this year's list. He mentions Rush in this article titled Metallica? OK, but we still don't like the Rock and Roll Hall of Fame.

After a long delay, last week Harmonix Music Systems finally released Rush's Moving Pictures album for download for the Rock Band video game.
Samantha Dyar made us all shed a tear or two with her uplifting story of how Rush helped make her wish come true this summer. Samantha was diagnosed with cancer back in August of 2007. She was approached by the Make-A-Wish Foundation and asked how they could help to make her wish come true. Being an avid Rush fan she decided that meeting the band would be her wish. This marked the first time Rush had ever been approached for a Make-A-Wish request. If you haven't read Samantha's amazing story yet be sure to check out this post. And be sure to have a tissue handy. :)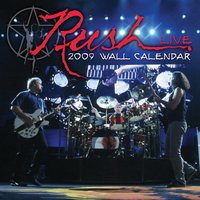 The 2009 Rush wall calendar is now available for purchases at the Rush Backstage Club for $12.99. It's also available at Amazon and other online vendors now. John over at Cygnus-X1.net has scanned all the images from the calendar and made them available online here. Thanks John!
Reader Ricbass4003 reports that the current issue of Rolling Stone magazine has a list of the top 10 highest grossing tours of the summer based on Pollstar averages. Rush came in at #7! Here's the entire top 10 list:
1. Tom Petty and the Heartbreakers (32.1 mil)
2. Dave Matthews Band (29.5 mil)
3. The Police (28.3 mil)
4. Neil Diamond (19.2 mil)
5. Coldplay (16.7 mil)
6. Journey (15.6 mil)
7. Rush (14.2 mil)
8. American Idols Live (13.8 mil)
9. Jonas Bros. (11.1 mil)
10. Motley Crue (10.5 mil)
Rush's sound engineer Richard Chycki recently checked in at his blog about all the cool stuff he's been mixing for Rush lately including the DVD and Rock Band mixes. You can check out the blog post here. Thanks to Oscar for the heads up.
Earlier this year I'd put up a post about an independent film which debuted at the Sundance Film Festival this year called Adventures of Power. The film is about air-drumming and is chock full of Rush references. It most notably includes a cameo from Neil Peart; his first speaking role in a live-action film. The movie has been making the rounds at film festivals across North America and Europe and getting rave reviews and winning many awards. It recently picked up the following film festival prizes: Grand Prize, San Antonio Film Festival; Best Feature Film, TriMedia Film Festival; and Best Comedy, Philadelphia Film Festival. Tonight the film has been selected as the Opening Night Gala film at the Sidewalk Festival in Birmingham Alabama and in two weeks the film will be screened at festivals in Memphis and Tucson. Neil Peart was treated to a screening of the film recently and emailed writer/producer/star Ari Gold with this reaction: In a word, Yeah! In two words, FUCK YEAH! Definitely see this movie if you get the chance. For details on Adventures of Power and to sign up for the mailing list you can visit its website at this location. You can also check it out on MySpace and Facebook.
And I leave with this moment of Rush-in-pop-culture history courtesy reader 1ouroboros. This is a clip from the 80s-era British comedy series The Young Ones. This episode aired Nov. 23, 1982 and was titled Boring. Check out the punk character Vivian's t-shirt.
That's it for this week. Have a great weekend!