Samantha is a 16-year-old Rush fan from Summerville, Georgia who was diagnosed with cancer back in August of 2007. 3 months into her treatment she was approached by the Make-A-Wish Foundation and asked how they could help to make her wish come true. The Make-A-Wish Foundation is a nonprofit organization that grants wishes to children with life-threatening medical conditions. They've granted wishes to 1000s of children since their inception in 1980 and are run entirely on donations. Samantha's wish was to meet her favorite band - Rush. This marked the first time Rush had ever been approached for a Make-A-Wish request. Here is Samantha's amazing story in her own words.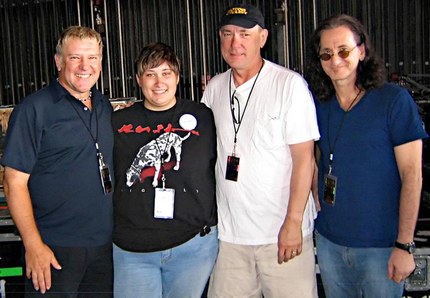 Wish Granted

I looked out to where, soon, 10,000 people would be standing to hear the band that I was about to meet. It was surreal. Ever since I was four, I had dreamed of meeting them. I had wanted to meet them for most of my life. As I grew, they became some of my heroes. Then when I was diagnosed with cancer in August of 2007, my world changed. The one thing that remained consistent was my family and their music. Three months into treatment, Make-a-Wish, a nonprofit organization, came to me and told me that I had a wish. I could do anything but get a car or a swimming pool. The things that I could do were numerous. I thought about it until the day they came to get my wish. Finally making my decision, I told them that I wanted to meet Rush.

The morning of July 20th, we went to the Verizon Wireless Amphitheater in Charlotte, North Carolina. We met with the head of security the band liaison, Kevin Ripa, who gave my family and I a tour of the stage, backstage and the dressing rooms. I got to meet the techs for the band: Bucky, the guitar tech, Gump, the drum tech, and Russ, the bass and keyboard tech. I even got to sit at Neil Peart's drum kit and hold Alex Lifeson's 1976 Gibson es355. After that we went to the back to wait for the bands arrival. I sat in on a security meeting and then I went back onto the stage to meet them. I first saw Geddy Lee. I was in awe. He smiled and gave me a hug. We started to talk a little when I saw a man in a white shirt and baseball cap come up. I did not notice who it was at first, thought he was just some guy, then I looked again. It was Neil Peart, one of my heroes. My emotions overcame me and I started to cry. At that point Neil gave me a hug. The last to arrive on stage was Alex Lifeson. He was a good natured person and a fun person to talk to. I told him that I listened to the song "Hope" over and over during my chemo treatments and the song meant a lot to me. That made him smile. After a little talking, the band went to their respective parts of the stage for the sound check. I went off the stage and to the rail at the front row. They played a few songs including Subdivisions, The Trees, and Ghost of a Chance. I then took a moment to take in where I was and what I was doing. I engraved everything on my mind, forgetting all else. It was like being in a perfect world filled with music. I went back on stage and Alex played the song Hope for me, which made me cry because of what it meant to me during my treatment. When the sound check was over, the band signed a few things including my copy of "Roadshow". Neil signed it "To Samantha, You can get back on! Neil Peart" I told him that my illness was like the lyrics in Farcry that go "some days I feel I'm ahead of the wheel and the next it's rolling over me". Neil also gave me the sticks he used for the sound check. Alex and Geddy gave me a bunch of picks. Geddy also gave me a "Henhouse" t-shirt. All generous gifts. I was also able to tell the band what their music has meant to me and my family, and also thank them for it. Then, the meet was over. It was an amazing 2 hours for me and my family. But the night was just beginning.

We went to the concert we had 5th row seats. During the first couple of songs, Kevin Ripa called me up on stage. After the song Ghost Of A Chance, Geddy walked up to the mic to talk to the crowd for the first time of the night. After saying hello, he mentioned that they had "a ton of material" for the crowd. He then said "but first, we would like to dedicate this next song to my friend Sam, this is from Hold Your Fire it's called Mission". Mission is one of my very favorite songs and Geddy told me while we were talking that it was his favorite song to play. For the third time that day, I cried. Watching the band play that song from on stage was overwhelming especially since they were playing it for me. The rest concert was phenomenal, and the day was one that I will never forget. My Dad and I also attended the Atlanta show 2 days later (THANKS PHILLIP!). I met many people there that were also at the Charlotte show that asked me about the song dedication. I was nice meeting everyone. I just told them that Make-A-Wish and Rush made it all possible. It was an unreal couple of days! Thank you Rush and thank you Make-A-Wish!

Make-a-Wish is an organization that grants once an a lifetime "wishes" to children with diseases like Cancer, Spina Abifida, Sickle Cell Animea, and other illnesses. It is an amazing organization. They made this such a special day for me and did everything in their power to make an awesome experience. The organization runs entirely on donations. If you would like to donate, see inspiring stories, or volunteer go to www.wish.org.

At last I would like to give a list of my favorite Rush songs

* Resist
* Mission
* Test for Echo
* Summertime Blues
* Working Them Angels
* Totem
* Hope
* Far Cry
* Malignant Narcissism
* Second Nature
* Marathon
* Force Ten
* Everyday Glory

My favorite albums are Test for Echo and Snakes and Arrows.

Thank you for letting me tell my story.

Samantha Dyar
I'm happy to say that Sam celebrated her 6th month of remission on August 16th and is doing great! Her father John also supplied some more details about the meeting which lasted for about 2 hours including sound check. They toured the dressing rooms and all around the stage and their family were the only people there during the sound check. Sam had an all access pass for the show and Rush's tour photographer John Arrowsmith followed her and her family around, taking several pictures many of which you can check out here. They also got to spend some time with Rush's lighting director Howard Ungerleider. Except for the few songs she was on stage, Sam watched the entire show from the rail (she liked the sound better out front). Sam's first Rush concert was during the Test for Echo tour when she was only 5 and she has seen Rush live a total of 10 times. Her very first concert was the Grateful Dead at age 4. Be sure to check out all the pictures from the meeting at this location. The expressions on Sam's face really speak for how magical of an experience this was for her. Many thanks to her, her family, Rush and the Make-A-Wish Foundation for allowing me to share this with everyone.
The Make-A-Wish Foundation is run entirely on donations. For information on how you can help, please visit this link.