UPDATE - 9/18@12:40PM: Eric over at Power Windows gave me another interesting tidbit regarding the setlist for this first gig. In a February, 2006 interview with Sound & Vision Magazine Alex Lifeson had this to say:
Wow. Let's see. We did Jimi Hendrix's 'Foxey Lady,' Cream's 'Spoonful' and 'Crossroads,' the Yardbirds' 'Shapes of Things,' and maybe a few others. We only knew about seven or eight songs back then.
----- snip -----
UPDATE - 9/18@10:10AM: Just to clear things up, Jeff Jones is not in the photograph below. I'm not clear on exactly when/where this was taken but it shows Alex, John Rutsey and Geddy Lee sometime in late 1968. I've actually never seen a photograph of the band which includes Jeff Jones. If you have one or know of one, please let me know.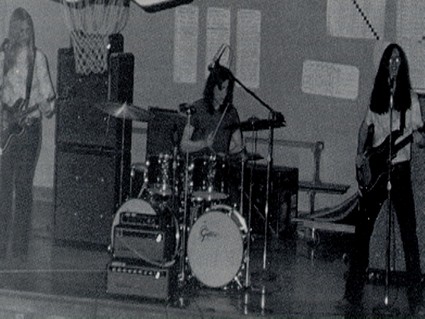 Today is a very special day in the annals of Rush history. On this day back in 1968 - 40 years ago - the initial incarnation of Rush played their first paid gig at The Coff-In coffeehouse located in the basement of an Anglican Church in Toronto. This initial lineup consisted of guitarist Alex Lifeson, singer/bassist Jeff Jones, and drummer John Rutsey. From the Rush biography Visions:
... The first band formed by Alex and John [Rutsey] in the Spring of 1968 was called The Projection. By the end of the summer that band had broken up.

In August, Jeff Jones came in as bass player and lead singer and a formal line-up of John, Alex and Jeff was formed. They spent their evenings and weekends trying to learn the hard rock songs of the day and scheming for an opportunity to play outside their basements.

The boys were soon able to work out an agreement to play in another basement, but this time they would be paid. Their salary was $25. The gig consisted of playing on Friday nights at an oddly named coffee-house located in the basement of an Anglican Church. The Coff-In served coffee, doughnuts and music to local teens for 25 cents a head.

The band was excited, but they had a big problem. While they had been dreaming of playing, they had neglected to come up with a name for their group. So a few days before the gig they sat around in John's basement trying to come up with an appropriate monicker. They weren't having much luck when John's older brother Bill piped up, "Why don't you call the band Rush" and Rush it was. ...
And Rush it still is, 40 years later. Jeff Jones was replaced by Geddy Lee the following Friday after Jeff canceled because he wanted to go to a party. After several lineup reformations, Rush's official incarnation was formed in May of 1971 consisting of Lee, Lifeson, and Rutsey. This would be their lineup on through the release of their self-titled debut album in 1974, after which John Rutsey was replaced by one Neil Elwood Peart. You know the rest. :) Happy anniversary guys!