It's been another quiet week for Rush news. Today is Neil Peart's 56th birthday. Otherwise there wasn't much to report over the last several days except for some new black-and-white photos at Rush.com, an upcoming Rush-themed photo exhibit, and VH1 Classic's announcement of their Rush Hashanah special. So let's proceed directly to the random Rush tidbits.
USA Today ran an article earlier this week previewing the possible inductees into the Rock and Roll Hall of Fame for 2009. Rush of course gets a mention and is included in their poll of possible inductees. So go vote for Rush! The list of nominees should be announced sometime later next month and the inductees chosen in November. So what do you think Rush's chances of getting in this time around are? Do you even care? Take the poll and let us know.
In my last poll I asked you which of the 3 members of Rush has aged the best. By a substantial margin you chose Geddy who got a whopping two-thirds of the vote. Coming in second was Alex with about a quarter of the vote and Neil took last place with close to 10%. I tend to agree with these results although I must note that in my opinion all three of these guys have aged well compared to most of the bands out there. They're one of the few bands to come out of the 70s that are still relevant today. Well done guys! May you have continued health and long life... and many more albums ... and tours. :)
In addition to it being Neil Peart's birthday today, Tuesday was Neil Peart and Carrie Nuttall's 8th wedding anniversary. Congrats! September was also a busy month in Rush history for album releases: A Farewell to Kings was released in 1977; Roll The Bones was released on September 3rd, 1991; Hold Your Fire on September 8th, 1987; Signals on September 9th, 1982; Test For Echo on September 10th, 1996; Caress of Steel on September 24th, 1975; and All the World's a Stage on September 29th, 1976. Wow.
It's been over 2 weeks since it was announced that the release of Moving Pictures for the Rock Band video game would be delayed, and still no word from Harmonix. If you hear anything let me know.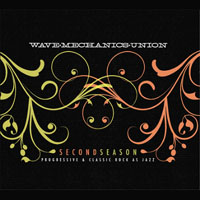 Late last year I told you about a full orchestral jazz covers project that was in the works which would include a jazz version of Rush's Available Light. The project finally announced the release of their CD earlier this week:
Wave Mechanics Union is a recording project orchestra with nearly thirty contributing musicians from four states. The group has recently recorded repertoire from progressive and classic rock icons set in a big band jazz style. The new CD, Second Season, is due in late September, 2008. With a full-scale jazz orchestra and vocalist Lydia McAdams, the group has recorded striking new arrangements of songs from progressive rock giants Yes, Rush, Pink Floyd, Led Zeppelin, King Crimson, The Who, Queen, The Police, They Might Be Giants, The Beatles, and more.

The brainchild of composers Ryan Fraley and Ralph Johnson, along with vocalist McAdams, the project seeks to honor the sometimes complicated sounds of progressive rock with jazz treatments. "Most jazz standards began their life as popular music," says Fraley. "We believe that these songs are as worthy of restatement as any popular music has ever been. As clever, relevant, and moving as any tune that has delighted a jazz arranger's imagination."

A large cast of nearly thirty musicians assembled to record the project, including session players from Indianapolis, Nashville, and Los Angeles. "A lot of jazz musicians also happen to be fans of progressive rock," says Ralph Johnson, the group's drummer and one of the arrangers.

Available in late September 2008, Second Season will be found on Amazon.com, CDbaby.com, iTunes, and the group's own website, progjazz.com.
To learn more about the project and listen to samples from the CD visit the project website at this location. Thanks to Power Windows for the heads up.
Andrew Olson has added a page to his Neil Peart fansite dedicated to the Motostars: Celebrities and Motorcycles exhibit at the Motorcycle Hall of Fame Museum which features Neil Peart's 1994 BMW R1100GS motorcycle and his R30 drum kit. Andy also let us know that there is now a companion book about the exhibit available to order online at this link.
I found this recent article where rock photographer Fin Costello is interviewed titled Through the camera eye. Fin relays an interesting story involving Rush.
Reader Melanie pointed me to this article which discusses the Greatest Concept Albums Adaptations of Classic Scifi Tales. Rush's 2112 is mentioned:
Rush – 2112 (1976): Although not technically a concept album, side one of Rush's 2112 is entirely composed of the titular suite, a seven-part homage to Ayn Rand's novella Anthem. Neil Peart reinterprets Rand's fable of technological rediscovery in a state-controlled society by arming his tragic hero with a guitar, a forgotten instrument that he uses to rebel against the strictures of his world.
Reader Duane located this interesting audio interview with legendary musician and founding member of Blue Oyster Cult (my second favorite band) Albert Bouchard. When asked about Neil Peart Al had this to say:
Neil is ok. I think I would put him in the category of like a Buddy Rich where he's very busy. Like Stewart Copeland from The Police does that same kind of thing but serves the song a little better in my opinion. It's like they [Geddy and Alex] have to work around Neil because he's so busy and elaborate. Which is fine. It's a great thing. I just listen to him and I think, "well I wouldn't do it like that". He's [Stewart] really busy but he always serves the song. I like that. He's a little more subservient. Neil Peart - the song has to serve him. It's alright though. It's alright with those guys [Geddy and Alex]. They're more than happy to play around Neil. ... [Rush are] really great, wonderful guys.
You can listen to the interview yourself at this link. The Rush bit occurs at about the 38-minute mark.
Here's an article from The Guardian which makes the argument that Cheeta the Chimp (of Tarzan fame) deserves a star on the Hollywood Walk of Fame. Rush gets a mention towards the end. I guess they figure that if Rush can get a star, then certainly Cheeta deserves one. :) Thanks to Andy S for the heads up.
On that note, I bid you farewell. Have a great weekend!