UPDATE - 8/22@5:06PM: John at Cygnus-X1.net has posted the English translation of the Cuerdas 2112-based comic strip over at his site here. He did a really nice job.
This week the Rush news covered a wide range of subjects including YYZ covers (both a death metal version and a toy instrument version), comic books, farm equipment and video games.
Saturday we learned that progressive death metal pioneers Atheist will include a cover of Rush's YYZ on their upcoming album. Also in the YYZ cover department, internet tribute band Plastica posted a hilarious video to YouTube of 3 of the members performing YYZ on toy instruments along with plenty of empty beer bottles and funny hats. Check it out here.
Wednesday I posted some scans of a Spanish comic strip based on Rush's 2112 called Cuerdas (Strings). It was written by Rush fan Pepe Gonzalez between November of 1985 and February of 1986. You can check out the scans in this post. John over at Cygnus-X1.net originally dug these up and is working on posting an English translation.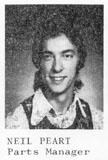 Back before Neil Peart joined Rush he worked for his father's farm equipment supply store Dalziel Equipment as a parts manager. Yesterday reader Dino sent me some scans of a Dalziel Equipment newsletter from 1973 which includes pictures of both Neil and his father Glen. You can check out the scans in this post. Many readers noted the family resemblance between Glen Peart and his son but reader Lamb Saag also noted a striking resemblance between Alex Lifeson and sales manager Hugh Doherty ... and created this funny/creepy image.

On the Rush and Rock Band front, we finally got confirmation yesterday that Harmonix will be releasing the entire Moving Pictures album for download for their popular Rock Band video game. It will be available next Tuesday, August 26th at the Xbox Marketplace and Thursday, August 29th at the PlayStation Store. As of right now it's not clear whether all the songs will be master track original versions or not; this has been confirmed only for Tom Sawyer and Limelight thus far All tracks are master track original recordings.
The Songs for Tibet benefit album which features a newly-recorded live version of Rush's Hope, is now available on both CD and on iTunes. You can also purchase Hope on its own at this location. This version of Hope is slightly different than the original and was recorded at the May 25th show in Regina. You can listen to a 55-second sample clip of the song at this link. The album is also available for both download (free but includes ads) and streaming at We7.com at this link (thanks Jeff T). Reader speckbrot also alerted me that it looks like iTunes has been blocked in China because of this album. You can read the full story at this link.
Just as a reminder, last month I let you know about how Rush had donated $100,000 to Brad Pitt's Make It Right Foundation, sponsoring the construction of a house in The Lower Ninth Ward of New Orleans dubbed The House that Rush Built. Including the band's contribution, there's now close to $103,000 donated toward the house. If you are willing and able to help them out, you can donate at this link.
The Buddy Rich Memorial Concert is just 2 short months away. It will take place at the Hammerstein Ballroom in New York City on October 18th and plenty of tickets are still available. The event is being organized by Cathy Rich and Neil Peart and will feature many artists including Neil, Nick Rich with the Buddy Rich Band, John Blackwell, Terry Bozio, Chad Smith, Jeff Berlin, Will Lee and Tommy Igoe.
Back in March we were all pleasantly surprised when Geddy and Alex showed up at the Foo Fighters show in Toronto and played YYZ with drummer Taylor Hawkins. Reader Armee pointed out the Foo Fighters will once again be playing Toronto on September 6th. Could the boys possibly make another guest appearance? We can only hope.
This upcoming Wednesday, August 27th will be our favorite guitar hero Alex Lifeson's 55th birthday. Alex is the young one in the band; he's the last to turn 55. Neil turned 55 last September and Geddy just crossed the speed limit last month. Happy birthday Lerxst!
Canadian rockers Sloan were recently interviewed in the July/August issue of Tape Op magazine. Here're a couple of quotes from the interview from members Jay Gerguson and Chris Murphy:
Jay Gerguson : "I want to say that the most "punk" band from Canada, ever, is Rush. They made these berserk records. People kept telling them to tone it down and they said (In defiant punk voice) "Fuck Yooooouuu" And they had their own label."

Chris Murphy "Yeah, they started it all. That was waaaay before Minor Threat."
Thanks to therockstar30 over at Counterparts for the heads up.
I recently located an article from a few weeks ago over at 411mania.com where the contributors list their top 5 progressive rock bands of all time. Only Rush and Pink Floyd are featured on each of the 5 lists.
You may have noticed that in the nationally-syndicated Chicago Tribune Sunday crossword puzzle this past weekend there was a Rush reference. #60 Down was the Drummer of Rush. I think you know the answer. Thanks to Wayne K for the heads up.
A few weeks ago I promised that I'd be spending some of my downtime revamping the videos section of the site. As a first step I went through all the Rush Music Videos and the Rush TV section and fixed any vids that were missing or not working (there were plenty). I also added a bunch of new ones. So if you haven't checked out these pages in a while, take a minute to do so. Here's one little gem that I never get tired of watching. It's the full video of Rush's 1974 appearance on Don Kirshner's Rock Concert:
Have a great weekend everybody!