UPDATE - 8/15@3:32PM: It looks like that old Rush poster image originated from the Power Windows site here and is courtesy of Ron Fritts Historical Research Collection.
The big news this week was the rumor that Rush will be ending their nearly 20-year relationship with Atlantic Records by releasing an Atlantic-era greatest hits package next year. The band is also rumored to be in negotiations with Rounder Records to release all new music exclusively through their label. None of this is official yet and I'll be sure to report any more details as I learn them.
In light of the rumored end to Rush's Atlantic relationship, for my next poll I thought I'd ask everyone what their favorite Atlantic-era Rush studio album is. Take the poll and let us know.
In my last poll I asked you all whether you preferred the 2007 leg setlist of the 2008 leg setlist. By about a 3 to 2 margin the 2008 leg won out.
Earlier this week Neil Peart updated the Bubba's Book Club section of his website where he reviews and recommends books that he's been reading. Neil reviews 4 books in this installment.
The latest issue of Rolling Stone magazine included reader reactions to their first-ever Rush feature. Jeff Nilsen of Boston seemed to sum up the feelings of most Rush fans with these 3 short sentences:
Finally, a story on Rush. Thank you. And fuck you.
Sean let me know about this recent photo gallery feature at MSN.com titled Fabulous and 50 which features over-50 celebrities including Rush. Here's what they said:
The Rush boys -- Geddy Lee, 55, Alex Lifeson, 54, and Neil Peart, 55: This trio has rocked North America (they're Canadian) for 40 years, including their successful, just-concluded 2008 tour. Lee was just 15 when he joined the band in '68, at the behest of lifelong pal Lifeson.

The hard-rocking Rush members have influenced bands like Iron Maiden, Metallica and Primus, and show no signs of slowing down themselves. Not so fly by night after all.
Alex also will soon be 55 (on August 27th) and Neil Peart will turn 56 this coming September 12th.
Comcast.net has a feature up on their site covering the 40 Greatest Album Covers Of All Time. Rush's Moving Pictures came in at number 17. Thanks to Doug B for the heads up.
Reader ou812112 pointed me to an article at The Onion's AV Club website titled Is This Music?: 29 terrific instrumentals by bands that usually sing. Rush's YYZ came it at number 3 and here's what they said about it:
Instrumental tracks often seem like breathers for bands, but with Rush, nothing is ever that simple. "YYZ" takes its name from the airport code for the band's hometown, Toronto, and the song itself translates the letters into Morse code and uses that as the basis for its rhythms. But if you just want to listen to it rather than do the math, it still rocks pretty hard.
The Rock Art Show is a traveling art show presented by local radio stations featuring over 150 framed drawings, paintings, lyrics, photographs, animation cels, album art and other art forms from Rock artists. The show features 3 Rush items and is currently on tour in case you want to check it out. Thanks to AFarCryfromFBN for the news.
Readers glortiz and Zitro recently took a trip to the Motorcycle Hall of Fame Museum in Pickerington, OH to take a look at Neil Peart's R30 kit and bike. They took a bunch of pics and allowed me to share them all with you.
I've finally started a Rush Tribute Band section to my links page. I'll be slowly adding bands to the list. So if you have a Rush tribute band and would like me to list your website, let me know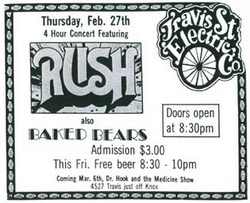 An unnamed reader sent me this image (see right) of an old poster advertising a Rush show from back in the early days (the poster is courtesy of Ron Fritts Historical Research Collection). The show advertised took place on February 27, 1975 at the Travis St. Electric Co. in Dallas, Texas. The cost of a ticket was only $3 ... and free beer too! Times sure have changed. :)
Have a great weekend everybody!