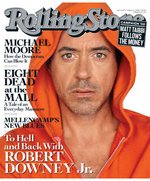 Several weeks ago Rush was featured in Rolling Stone magazine (with Barack Obama on the cover) with a 4-page article/interview titled Rush Never Sleeps. Rush had been persona non grata in the pages of Rolling Stone ever since the early days back in the 70s, so this overwhelmingly positive and complimentary article came as quite a surprise to just about everyone. In the latest issue of the magazine (issue #1059 with Robert Downey Junior on the cover) there were four letters to the editor (in the Correspondence section) referring to the Rush feature:
Barackamania has struck RS, as readers raved over his second appearance on our cover in five months. But equally enthralled were the fans of Rush, who sent more than 100 letters praising (begrudgingly) our first-ever feature on the oft-ignored group.

Rush, At Long Last

It took you 30 years to cover rock's best-kept secret: :Rush Never Sleeps" [RS 1056/1057]. But it's nice to see such an unbiased feature on such an "uncool" band.

- Steven Peterson, Toronto

Thanks for the excellent article on Rush. But I'm a little bummed to learn that I'm among a legion of nerds. I guess that explains my lack of success with the ladies.

- Ken Maas, San Leandro, Ca

Six pages of rush in RS? The apocalypse cometh.

- J. Sukitch Woodland Hills, Ca

Finally, a story on Rush. Thank you. And fuck you.

- Jeff Nilsen, Boston
That last one was my favorite. Thanks to Henry Gale at Counterparts and Lerxster for the heads up.