[Rush Unveil "SNAKES & ARROWS LIVE"; 2-CD Set Recorded During 2007 World Tour; Legendary Trio Return to the Road in April With First Ever Concert in Puerto Rico; "SNAKES & ARROWS LIVE" Lands on April 8th]
UPDATE - 2/28@9:30AM: According to this Counterparts thread the Workin' Them Angels single is already being played by a couple of Canadian stations; namely 97.7 HTZ FM out of Southern Ontario and CHEZ 106 in Ottawa. They must have obtained an advance copy - or the March 10th release date in the press release is wrong.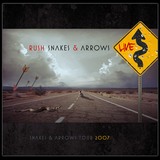 Atlantic Records put out a press release earlier today revealing some more details about the upcoming Snakes & Arrows Live double CD to be released on April 8th. We already knew the tracklist and that the CD was the audio from last October's Rotterdam shows. They also confirm that Richard Chycki mixed the album and that they will indeed release a live version of Workin' Them Angels from the CD as a single. The single will impact rock radio outlets on March 10th. I first reported that they'd be releasing a single version of this song back in November although it did not become apparent that it would be a live version until after the live CD was announced. So it looks like some of our speculation from a couple weeks ago was correct. There's still no word on whether there will be some kind of video to accompany the single, as was also rumored. As another treat, they have a more detailed tracklisting (without any misspellings) which includes the name of Neil's drum solo as De Slagwerker. Here's the complete tracklist from the press release:
Disc 1

1. Limelight
2. Digital Man
3. Entre Nous
4. Mission
5. Freewill
6. The Main Monkey Business
7. The Larger Bowl
8. Secret Touch
9. Circumstances
10. Between the Wheels
11. Dreamline
12. Far Cry
13. Workin' Them Angels
14. Armor and Sword

Disc 2

1. Spindrift
2. The Way the Wind Blows
3. Subdivisions
4. Natural Science
5. Witch Hunt
6. Malignant Narcissism - De Slagwerker
7. Hope
8. Distant Early Warning
9. The Spirit of Radio
10. Tom Sawyer

Encore:

11. One Little Victory
12. A Passage to Bangkok
13. YYZ
Unfortunately they seem to have removed the 2 new tracks Spirit of Warning and Encore. ;) Thanks to Sean for the heads up.