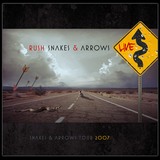 Rush.com just sent out an email advertising the upcoming Snakes & Arrows Live double CD. They confirm the release date as April 8th and give the tracklist - information we already knew. But the new bit of information is the confirmation that the audio is indeed from the 2 shows that were recorded in Rotterdam last October, as we had suspected. For the sake of completeness, here's the tracklist again:
Disc 1
1. Limelight
2. Digital Man
3. Entre Nous
4. Mission
5. Freewill
6. Monkey Business
7. Larger Bowl
8. Secret Touch
9. Circumstances
10. Between the Wheels
11. Dreamline
12. Far Cry
13. Workin' Them Angels
14. Armor and Sword

Disc 2
1. Spindrift
2. The Way the Wind Blows
3. Subdivisions
4. Natural Science
5. Witch Hunt
6. Malignant Narcissism - Drum Solo
7. Hope
8. Distant Early Warning
9. The Spirit of Radio
10. Tom Sawyer
11. Encore
12. One Little Victory
13. A Passage to Bangkok
14. YYZ
You can pre-order the CD throught the Music Today pre-order site or various other online vendors such as Amazon.