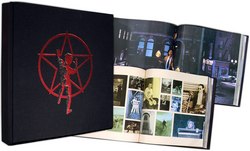 [Win A Special Edition Of The Complete Tourbooks!!]
The Rush Backstage Club has a new contest up. This time you could win a special limited edition version of the Complete Tourbooks collection. From the website:
This is an ULTRA-LIMITED edition of "Rush - The Complete Tourbooks". This book is one of only 5 copies debossed with a special red foil on the cover. This is a 400 page coffee table book with all of Rush's tour books to date, a total of 15 books. The books have been reproduced and bound together in a black, cloth-wrapped 12" X 12" book. Every cover of every book is printed on cover stock. The front cover is debossed in black and red foil with the starman logo. There is a two-page introduction written by Neil Peart, detailing his involvement in the design and content of every Rush tour book going back to 1977.
This contest closes on March 15th. To sign up go here. Good luck!