Other than the ticket sales and tour updates, there wasn't much in the way of Rush news happening this past week. They lost another Grammy - that was about it.
I also attempted to address some of the more frequently asked questions I've been getting from readers lately; regarding the live DVD and South American dates. No solid information on either front, but it looks like we'll probably see the DVD by the fall, and that South American dates are unlikely to happen.
I've also received a few questions regarding a couple of documentaries that are in the works. The first is a 5-part documentary series shot this past summer during the Canadian leg of the Snakes and Arrows tour that I'd first mentioned back in December. The series is called Backstage Secrets and each one-hour episode follows various members of the Rush road crew during a typical day out on the road with the band. It was filmed in high-def and was originally slated to air this month, although there's been no word of air dates yet. I'm working on getting some info on this and will report it here as soon as I get it.
The other documentary in the works is Sam Dunn's (of Metal: A Headbanger's Journey fame) Rush: The Documentary project. There's no new information on this front either. Last we heard they were calling out to fans to provide rare video footage and interviews, and were aiming for a late 2008 release.
Remember those Neil Peart R30 commemorative drumkits? Back in late 2006 Guitar Center teamed up with Drum Workshop and Sabian cymbals to produce thirty limited edition replicas of the drumkit Neil Peart used during the R30 tour. Well... they finally sold out! So you lost your chance if you wanted one. Thanks to Andy O for the heads up, who has a few of these kits displayed on his Neil Peart site in the replicas section.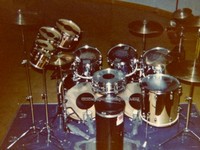 Andy also recently posted a very rare photo of Neil Peart's drumkit circa 1974-5 that he had received from Michael of NeilPeartDrumsticks.com.
I missed this last week, but February 1st marked the 10th anniversary of the Power Windows site residing in it's current home on the 2112.net servers. A big congratulations to the site owner/operator Eric, and a hearty thanks for all he does for the online Rush community. I've gotten to know (as much as you can get to know somebody without ever meeting them) Eric via emailing back and forth over the last couple of years, and he is a very nice guy with a great website. To mark the occasion, Eric updated his Power Windows website original Rush art gallery Desktop wallpaper image and made it also available in a widescreen format. Thanks Eric!
Speaking of the Power Windows site, there were a couple of recent additions to the Rush references in pop culture page that I thought I'd note here.
Freedom is a Japanese anime series from legendary producer Katsuhiro Otomo (of Akira fame). In the first scene of Volume 6 of the series (released on January 25th, 2008) the main character is seen wearing a space suit with an Apollo 18 mission patch embroidered with the names Lee, Lifeson, Peart. Check out the screenshot here.
The other reference is from Season 3 (episode #46 - first aired on October 8, 2007) of the Chris Rock sitcom Everybody Hates Chris. During this episode titled Everybody Hates Caruso, Tom Sawyer begins to play when the bully Caruso begins to fight the Asian student, Yao, in the school corridor.
Greg Russell is the web designer behind Neil Peart's website NeilPeart.net and his company Tandem Digital also created the Swingin' Serpents video that was played during Neil's drum solo on the Snakes & Arrows tour. Reader brian andonian just alerted me that this video is posted up on the Tandem Digital website.
There are a few desktop wallpaper images posted in the Rush.com Multimedia downloads section that I was just made aware of. They are live pics from the 2007 tour. Thanks to Snoscootr for the heads up.
The Adventures of Power movie (see this post) website has been updated with several new links and a bunch of review snippets, including one from yours truly. Check it out here.
The Gibson Alex Lifeson ES-355 is now up on the Guitar Center and Musician's Friend websites. The MSRP is $5645! ... although it's been discounted to $3699 on both sites. So if you have some money to burn, you can now own one of these babies. Here's a snippet from the item description:
The Alex Lifeson ES-355 features a maple body, 3-piece maple neck, '57 Classic pickups with individual volume and tone controls, and a Maestro Long vibrola tailpiece. It would be the consummate prog rock machine even if it weren't the chosen axe of the Rush guitarist, but because it is, you know it's got the goods. The Vibrola is one of the least wood-invasive tremolo options, keeping the belly of this archtop guitar remarkably pristine and preserving it's natural resonance. The Alex Lifeson Signature ES-355's individual volume and tone controls for each of the '57 Classic pickups give you full reign over the wide spectrum of tones of which these faithful Alnico II replicas of the 1950s PAF humbuckers are capable. ...
Thanks to ewayte for the heads up.
That's it for now. Have a great holiday weekend everyone!