UPDATE - 2/9@10:44AM: I mentioned below that the Grammys are this weekend, but forgot to say that the Rock categories - including Best Rock Instrumental Performance for which Rush is nominated - will be given out earlier in the day at the pre-telecast ceremony. This ceremony will be webcast at Grammy.com between 1PM and 3:30PM PST on Sunday.
The third round of Music Today pre-sales for the 2008 leg of the Snakes & Arrows tour ended yesterday and the next round were announced late this afternoon, including 4 of the Canadian dates, the Mohegan Sun show, and the Atlanta show.
In my last poll I asked everyone how many shows they'd be attending on the 2008 leg. About a third of you are just attending one show, another third 2 shows. 16% of you are attending 3 shows, 9% 4-5 shows, 6% aren't attending any, 2% 6-7 shows, and 5 folks will be attending 8 or more shows. In this next poll I'm asking you all how you'll be obtaining tickets. Take the poll and let us know.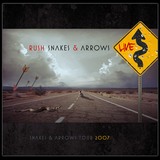 Even without all the tour news, it was a busy week in Rush-land. Earlier this week we learned that the new Snakes & Arrows Live CD would be released on April 8th, and just last night the tracklist was revealed ... and it's the entire show!
This past weekend I posted my mini-interviews with guitarist Chris Herin of Tiles and legendary Rush producer Terry Brown. Tiles just released their latest album Fly Paper and Terry Brown produced it. Chris and Terry talk about the album, Rush and other topics. If you missed it you can check it out here.
On Monday I told you about Tough Break - the unreleased Rush collaboration with legendary roadie Jack Secret. The tune was recorded back during the mixing of Exit ... Stage Left. Neil Peart mentioned the track in the Signals tourbook and ever since it has been the stuff of Rush legend. But just recently it finally found its way onto the internet. If you haven't heard it yet, you can listen to it here or use the player below.
Neil Peart recently penned a new article for Drum Workshop that was posted on their website earlier this week. It is the first in a series entitled The Heart and Soul of a Drumset. You can check it out here.
Last weekend I managed to get a screening of a new independent film from writer/director/actor Ari Gold called Adventures of Power. It's a quirky comedy about air-drumming which is chock full of Rush references and contains a cameo from Neil Peart at the end - he even says a couple of lines. You can read details about the film and my review of it in this post. There's also a great trailer up on YouTube.
The 50th annual Grammy Awards ceremony will take place this coming Sunday, February 10th at 8PM and air on CBS. Rush is up for a Grammy for Best Rock Instrumental Performance for Malignant Narcissism. This is the 5th time in their illustrious career that Rush has been nominated in this category, but they have never won. Maybe the 5th time is a charm.
Speaking of awards, Snakes & Arrows sound engineer Rich Chycki has been nominated for a Juno Award (Canadian equivalent of the Grammys) for his engineering work on Far Cry. The main cermony will be held at the Pengrowth Saddledome on Sunday, April 6th with a smaller ceremony in Calgary on Saturday, April 5th at the Telus Convention Centre. To check out an interview with Rush where he discusses working on Snakes & Arrows go to this post. Unfortunately Rush was not nominated for any Junos this time around. Thanks to Metal Tim at BW&BK for the heads up.
The Rush Backstage Club finally has a new contest up. You could win a hand-numbered Snakes & Arrows lithograph printed on heavy textured art paper. You can sign up for the contest at this link through February 15th. Good luck!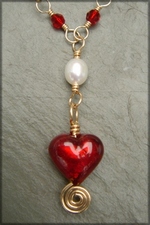 I mentioned the Between Sun and Moon website in my last update. And since Valentine's Day is less than a week away, I thought I'd mention it again. Between Sun and Moon sells unique jewelry handmade by a fellow Rush fan (Katy). All the pieces are inspired by Rush and named from their lyrics. Your order will come gift wrapped for free along with your personal gift card message. Even if your recipient isn't a fan, they will love a Valentine's Day gift from Between Sun and Moon. I've given my wife (definitely not a Rush fan!) a couple of Katy's pieces and she absolutely loves them. RushIsABand readers will get Free Priority Shipping with any purchase over $30.00! Use discount code: RUSHISABAND at check out. Order before Monday February 11th to take advantage of this generous offer.
Geddy Lee will be a celebrity judge at the Canadian Culinary Championships this weekend in Toronto. For details, check out the press release.
And speaking of Geddy... did you know he has a Godson? Jhase Sniderman of the Ontario Hockey League's London Knights is described as the godson of rock star Geddy Lee of Rush in this article. Thanks to robertkincaid96 at Counterparts for the links.
Reader 1-2-bucklemyshoe let me know that WPDH in New York had a rock and roll championship last weekend and Rush came out on top, defeating AC/DC in the finals, also defeating Pink Floyd, Neil Young and Led Zeppelin. Cool.
In my last couple of updates I pointed out 2 YouTube clips of Alex Lifeson playing at the 1993 and 1994 Kumbaya Festivals. Well, snowdog2113 let me know that he played at the 1995 festival too. Here's the clip.
Comedian Artie Lange appeared on David Letterman last Friday. During his interview he was talking about how broke he was from gambling, claimed that's why he was wearing the same cargo pants he wore at a Rush concert in 1981. :) Thanks to GotRush at The Rush Forum for the heads up.
That's it for now. Have a great weekend!