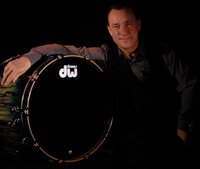 [The Heart and Soul of a Drumset: Chapter One - Bass Drum Heartbeat]
Drum Workshop has a new article penned by Neil Peart up on their website which is the first in a series entitled The Heart and Soul of a Drumset. In this installment Neil talks about the 23-inch bass drum on his new Snakes & Arrows kit and how it came about.
... Once I got my hands — or my foot — on that 23-inch bass drum, I was sold. As John had suspected, it retains all the response and dynamics of the 22-inch, but adds the punch and bottom-end of a 24-inch. For me, the bass drum is the heart of the drumset, and this heart, like a good drummer, is both strong and sensitive. ...
As an added bonus there's also a video up where Neil discusses his X shell and hybrid kit and expounds on the great skill of John Good from DW Drums. Many thanks to Mark for the heads up.