I'm going to step away from the tour news for a moment in this post and cover all the other Rush news that happened this past week, and - of course - all the random Rush stuff too.
Tuesday saw the release of Fly Paper - the new album from Detroit progsters Tiles. Alex Lifeson plays on the track Sacred and Mundane, Terry Brown produced it, and Hugh Syme did the artwork and played keyboards on a couple of tracks. I submitted a few questions via email to both guitarist Chris Herin and producer Terry Brown. I'll have their answers up in a separate post over the weekend.

Working Man was released for the Rock Band video game on Thursday, which I'd mentioned back in this post. Tom Sawyer is a featured track included with the game and Limelight was released a few weeks back.
Atlanta startup company iVideosongs launched their eponymous website this past week. They sell virtual music lessons online, featuring paid video downloads of guitar pros demonstrating their playing technique. Big Al Lifeson is among these featured pros; you can learn how to play Limelight, The Spirit of Radio and Tom Sawyer directly from Lerxst himself. The videos have received rave reviews from fans thus far.
Andrew Olson has added a catalog of Neil Peart's writing to his Neil Peart site. It's a new section of the site with the goal of listing everything that Neil Peart has ever written for magazines, newspapers, websites, and other media. This is a very cool resource; Andy's site just keeps getting better and better. He has also added a new postcard to his Postcards from Neil section and made some tour-related updates.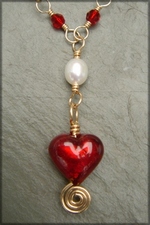 You may already be familiar with the Between Sun and Moon website - it's on my links page and I usually give it a mention around Christmas and Valentine's Day. And guess what?! ... Valentine's Day is almost upon us. Between Sun and Moon sells unique jewelry handmade by a fellow Rush fan (Katy). All the pieces are inspired by Rush and named from their lyrics. Your order will come gift wrapped for free along with your personal gift card message. Even if your recipient isn't a fan, they will love a Valentine's Day gift from Between Sun and Moon. I've given my wife (definitely not a Rush fan!) a couple of Katy's pieces and she absolutely loves them. RushIsABand readers will get Free Priority Shipping with any purchase over $30.00! Use discount code: RUSHISABAND at check out. Order before Monday February 11th to take advantage of this generous offer.
Burger King Diamond over at Counterparts found this great thread over at the Talk Bass Forum where Geddy Lee's bass tech Russ Ryan chimes in and talks about Geddy's setup.
Reader Brian U alerted me to this cool Rush group on photo-sharing site Flickr. It's a great place to upload and share all of your Rush and Rush-related photos. There's some neat stuff up there that is definitely worth checking out.
A couple of weeks ago I pointed you to this very cool clip of Alex Lifeson from the 1994 Kumbaya Festival where Alex plays All Along the Watchtower along with Tom Cochrane and others. It turns out he also performed at the 1993 Kumbaya Festival and the video of that performance is up on YouTube as well. Lerxst pumps out some blues and it also includes a short interview with Alex backstage before his performance as a bonus. You can check it out here. Thanks to binks for the heads up.
Reader bryce wanted me to let everyone know about a petition on Facebook that he started. It's a petition for all of the Rush completionists who want Anthem to release Test for Echo on vinyl. It's the only Rush release that has not been given that treatment. To sign the petition you have to be a Facebook member and go to this link.
For those of you who really liked the lost Power Windows demo mentioned back in this post from a few weeks ago, MitA put together some higher quality Flac versions of the files that you can get from this Counterparts thread.
My hometown classic rock station - Cleveland's WNCX 98.5 - is running a survey to determine what artists should be in their Classic Rock Hall of Fame. You can choose up to 20 artists from the list they provide and Rush is one of the choices. To vote go to this link. Thanks to fellow Northeast Ohioan Charles K for the heads up.
Progarchives.com recently asked all of their reviewers, collaborators, and admins what they thought were the best albums of 2007. Reader Stephen let me know that the results are in and Rush's Snakes & Arrows made the cut at #7. Porcupine Tree's Fear of a Blank Planet (which Alex Lifeson played on) came in at #1.
Let's hope that none of us have the same experience as this Rush fan did when purchasing their tickets. Thanks to Phil for the link.
Blogger Merlin Mann of Kung Fu Grippe makes this interesting observation regarding the video for Rush's 1975 song Anthem off of the Fly By Night album in a recent blog post:
If this were Fantasia, at some point Geddy would hit Neil in the back of the head with that big ole Rick bass, and Neil's mullet would explode into 100 smaller, angrier mullets.

At least that's what it looks like in my dreams.
Thanks to Stephen D for the link. Speaking of Fly by Night, here's a pic of a Fly by Night Pick-up Truck that reader Spindrifter sent my way.
And as a reminder, Music Today has graciously offered to run a promotion exclusively for Rush Is A Band readers - just like on the last leg. Three lucky readers will be randomly picked to receive a Limited-Edition Rush T-Shirt. To enter the Rush Is A Band T-Shirt Giveaway, email the following information to riabbiggestfanzz@aol.com.
* First and Last Name
* T Shirt Size
* Age
* Mailing Address
* Phone Number
Email entries will be accepted until Friday, February 29th. Winners will be picked and notified by Music Today the week of March 4th - March 8th. A big thanks to Music Today for doing this again - it was a big success on the 2007 leg.
Have a great weekend everybody!