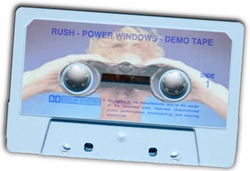 UPDATE - 1/3@1:15PM: On the right you will now see a very cool photo to go along with the demo that was created by reader Lamb Saag. It's ideal for use as the album art for the demo in iTunes or similar programs. Here's the link to the full-res jpeg.
UPDATE - 12/26@11:33AM: Sorry.. the links to the first 4 tracks were outdated. I fixed them.
In my last updates post I'd mentioned how a lost demo tape of Power Windows had found its way into the hands of some member of the Counterparts message board recently. It all started earlier this month when Counterpeep UltimoGuitarist announced the existence of this tape. After much vetting and discussion it was ultimately determined to be legit. MitA then obtained a copy of the tape and converted the songs to mp3 over the last week. Here they are for your enjoyment. You can download them via the provided links or just use the player below.
[Emotion Detector]
[Manhatten Project]
[Middletown Dreams]
[Grand Designs]
[Mystic Rhythms]
[Territories]
[Marathon]
[The Big Money]
Many thanks to everyone at Counterparts for making these available.