It's been a quiet post-holiday week for Rush news. There was finally an update on the DarkStar project and Richard Chycki posted in his blog about how he was working on the upcoming Rush live DVD... but that's about it.
This coming Thursday the 2007 Grammy Award nominees will be announced. Do you think Rush will be nominated? Take the poll and let us know. If Rush is nominated it'll most likely be for best instrumental or possibly best rock album/performance. Last week I asked you what your favorite Rush instrumental was. The overwhelming winner was La Villa Strangiato with 50% of the vote. In second was YYZ with 21% and rounding out the top 5 was The Main Monkey Business (13%), Leave That Thing Alone (5%) and Malignant Narcissism (5%).
After a 3-month hiatus, MitA has dug up a few more Rush oddities for our collective enjoyment. They include several short audio clips and a couple of goofy pictures. The first picture is of Neil wrapped in a scarf at his drumkit, and the other is a closeup of Alex's Angels from the Snakes & Arrows tour. You can access the audio clips directly via MitA's website or use the player below.
Thanks MitA!

The Rock Band video game - which features Rush's Tom Sawyer - was released last week to rave reviews. Unfortunately the version with the game is a cover. Reader pinkfloyd2000 pointed me to this video capture of Tom Sawyer from the game so you can hear how the cover version sounds. The song was also featured in a story on NPR from a couple of days ago where Carrie Brownstein - former guitarist for Sleater-Kinney - discusses her review of the game for slate.com (thanks to EvieJoy for the heads up).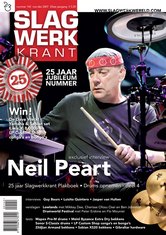 Neil Peart is featured on the cover of the November/December issue of Dutch drum magazine Slagwerkkrant for their 25th Anniversary issue, which also includes an exclusive interview. Thanks to Power Windows for the heads up and the scan.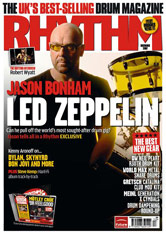 The December 2007 issue of the UK's Rhythm Magazine contains a 3-page review of the R30 drumkit, a 3-page drum transcript of Tom Sawyer and a separate booklet on drum layouts which has a center spread poster of Neil with the R30 kit. Thanks to Welshexile for the heads up.
Playboy magazine is running their annual music poll over at their website and unfortunately have excluded Rush from all of the categories. A travesty! They do have a spot for you to write-in your vote though. So head on over to Playboy's site and write in Rush and Snakes & Arrows. Thanks to John over at Cygnus-x1.net for the heads up.
The Counterparts message board is running a Name That Rush Tune charity drive for the 3rd year in a row. Just visit the Rush Games forum to play. How well do you know Rush's catalog? Can you name a Rush song from a one-second sound clip? Every Counterparts member is welcome to give it their best shot. When you play Name That Rush Tune, you're playing in the name of your favorite charity. Donations are being taken, and the final Name That Rush Tune champion will have everything donated in their name to the charity of their choosing! For more on the charity drive, go here.
I was recently contacted by reader Matthew C regarding a cause that many Rush fans may be interested in. Matthew represents an organization called SaveTheDDO.org. I'll let him explain what it's all about:
In the 1970's Tom Bolton, professor of astronomy from the University of Toronto, was doing research at a place called the David Dunlap Observatory north of Toronto. This is one of the oldest observatories in North America and at the time of its construction in 1935 it was the second largest in the world. While working at the Dunlap Prof. Bolton discovered the first observable scientific evidence of a black hole. The name of the star within which he made this discovery was called Cygnus X-1. Sound Familiar?

This discovery was the inspiration for the Rush song of the same name.

Recently, the University of Toronto decided to sell the Observatory property to the highest bidder and a number of people, Prof.Bolton among them, are working against the clock to have this historic landmark preserved. Basically, we need people to care and we need people to show it! ...
So if you're interested in saving the David Dunlap Observatory, visit SaveTheDDO.org.
Reader John H let me know that the new live DVD from Canadian rockers The Barenaked Ladies (Talk to the Hand: Live in Michigan) features guitarist/vocalist Ed Robertson wearing a custom Rush t-shirt. You can see it pretty well in the opening song of the DVD (One Week) which can be viewed at YouTube.
I came across a couple of old video interviews via krlowe over at The Rush Forum. The first is a short feature on Rush from MuchMusic back in the early 80s. It contains footage from the Permanent Waves era including an interview with Ray Daniels and a short clip of a Geddy Lee interview along with concert and video footage. You can check it out here. The second is a short soundcheck interview with Alex and Geddy on MuchMusic from the Toronto Rocks SARS benefit concert. It can be seen here.
And I'll end with a bit of news from the rumor mill. Please take this with a big grain of salt. :) One of my readers emailed me earlier this week to say that he spotted Snakes & Arrows producer Nick Raskulinecz coming out of customs on Monday at LAX. He approached Nick and told him how great he thought the album was. Nick graciously shook his hand and said thanks, wait 'til you hear the next one. He then offered up that he (Nick) would be producing the next album and that they were already working on it! I'm not really surprised that Nick would be working on the next album seeing that both parties have enthusiastically expressed interest in doing so in several interviews. What does surprise me - if true - is the fact that they're already working on it. This is the second such rumor to this effect that I've heard, so maybe it is true. If I had to speculate, I'd say that Alex and Geddy have been writing a bit between gigs and on breaks and probably have some rough cuts of a few songs that Nick is helping with. Again - this is a complete rumor at this point. I don't have any solid word on whether this is true or not. But ... if it is it's great news. Let the speculation begin! ;) Have a great weekend!